With people heading out on the water and trail carrying more and more electronics, having systems to recharge these devices has become more and more important.  Pack & Paddle is carrying a wide range of spare power solutions.  Here's a quick primer on what's available:
Keep it simple:
If you are in-town, traveling or out in the backcountry for short stints, having spare power with you is simple and easy.  A great option is the Powertraveller Discovery. This sleek power station allows you to fully recharge your iPhone twice or get an extra 120 hours of play time on your iPod.  At only 107 grams, you'll hardly know you're carrying it with you.
Add in solar charging: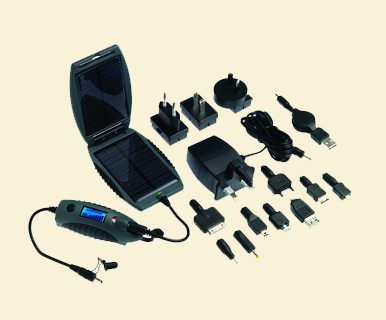 If you'll be away from standard ac hookups, you may want to think about adding in the ability to charge from the sun.  The Powermonkey Explorer allows you to charge the included battery while you walk or paddle.  Then whenever it's convenient, simply hook the power pod to your device to recharge it.  The unit comes with everything you'll need including connector tips for a wide varitey of phones and devices.
Keep it light:
If you like to get max charging for the lightest weight, consider the new Bushnell Solarwrap Mini.  This unique charger rolls up to tuck out of the way – but will fully charge the included cell in 10 hours.  This gives  you enough power to recharge your iphone or other device when you're off the grid at a fraction of the weight of other chargers.
Come by the shop and we'll show you these and other power solutions for your outdoor and travel needs.