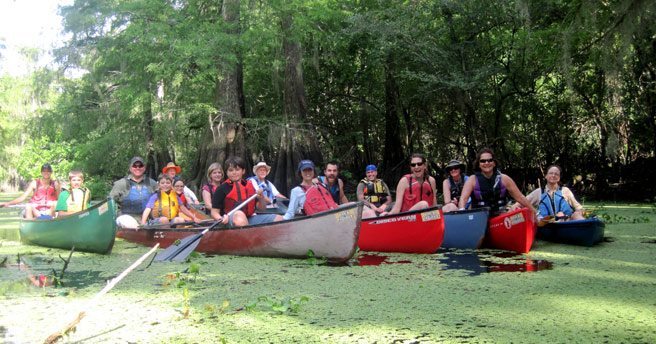 2 o'clock bayou is located just off of Hwy 190 and Hwy 71 between Port Barre and Krotz Springs.  We immediately saw several turtles sunning themselves down this seldom used waterway.  Of course there was the ever present red-ear slider but then there was the Mississippi map turtle, it has ridges down the center of its carapace (top of shell), and one of my favorite turtles, the Southern Painted Turtle, it has an orange stripe down the center of its carapace and has yellow and orange markings on its plastron (underside of shell).
We saw lots of Great Egrets,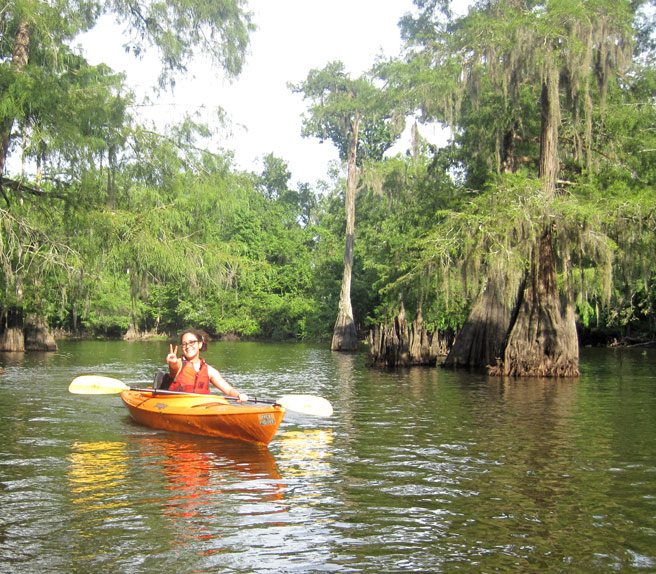 they flew down the waterway as we approached, a lovely sight against moss draped cypress along the waters edge. There were Green Heron's, Roseate Spoonbill, Barn Swallows nesting under a bridge, Prothonotary Warblers, and a whole host of other birds.
On our return I ran across a river otter crossing the waterway but no one else got to see it.  We also ran across a couple of good sized alligators and a small group of three young alligators, probably last years brood.  It is too early for them to be hatchlings since females are only nesting now and they were too big, yet still hanging out and feeding together. Even with all of this wildlife and the beauty of this all but forgotten waterway, there was much more excitement.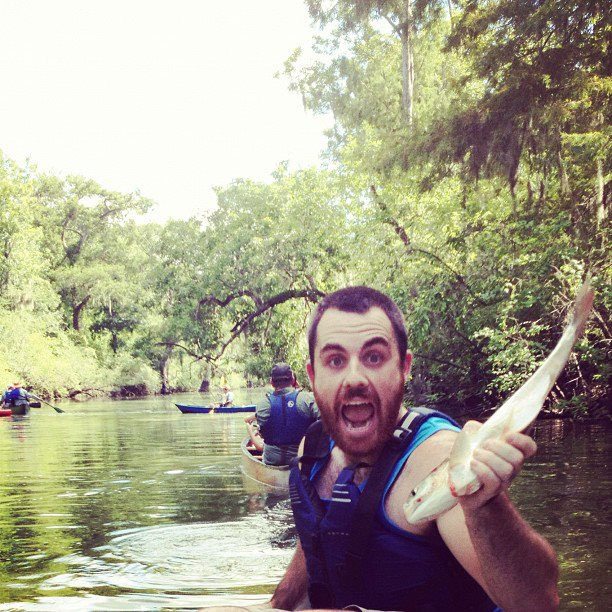 Shelby and Cindy, dubbed themselves as "the Zigzaggers" came real close to have two fish (probably carp) jump into their boat.  Not be outdone, Clair had a fish jump almost into her lap.  She screamed scaring the fish and Joey, and you couldn't tell who was going to exit the boat first, the fish because it was jumping all over the boat, Clair because she was trying to get away from the fish or Joey because he was trying to save Clair from the fish.  Joey prevailed and released the fish back from where it came.
You would think all of this would be enough excitement for our paddlers but apparently it wasn't.
As Kevin was paddling along, a fish flew across his canoe, right in front of him, then slapped him in the face with its tail. I have paddled this little bayou many times and this has never happened before.  We started a rumor that it was only the people that doused themselves in "off" that were offended by fish. But then Pack & Paddle paddling assistant, Jon also had a fish incident and only had on essential oils from morning yoga.  So I guess "off" does not attract carp afterall.
What an adventure!
-Stacey Scarce, Trip Leader
To see the rest of the photos from this trip, click here!