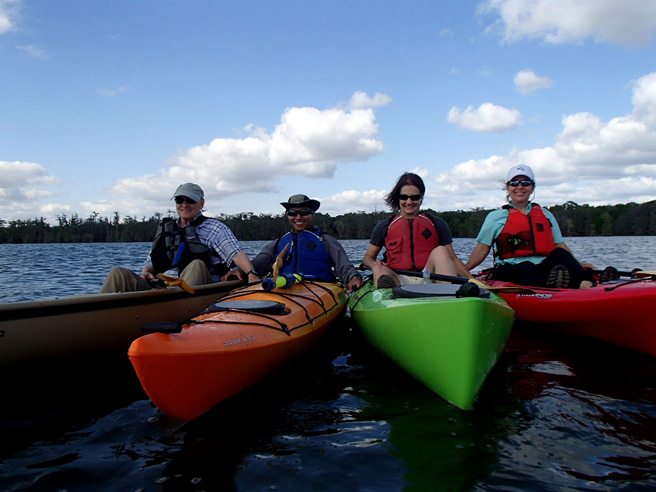 Patrice, Holly, Jim, Romeo and I started the kayaking 102 class at the pool. The weather started out sunny, we practiced sit in and sit on top kayak rescue skills: the wet exit first, followed by the "T Rescue" in sit in kayaks, an assisted rescue with the sit on tops, and the cherry on the pie, a paddle float rescue. 
Jim had brought his own boat that we used for some of the rescues. These self rescues are great for building confidence – having these skills makes you feel safer on the water.
After a great lunch at subway at noon (everything tastes good when hungry), we drove to sunny Lake Martin. There, everybody enjoyed some theory: parts of a kayak, what to bring, signals, and safety.
After that we practiced strokes on the lake. The mantra was: "torso rotation". After some practice everybody really got the hang of it! Rotating your torso instead of using your biceps makes long distance paddling less tiring and more fun. The class really liked the draw stroke, which makes you go sideways!! This stroke comes in handy when rafting.
We paddled around the lake
and everybody became a point (the leader of the pack) and a sweep (the last one). The point got to decide where to go. After we came onshore around 4:30, we debriefed the day, took a group photo, and packed up. The alligator wished us a goodbye too!
I thank all the students for their motivation and their efforts. It was a great day!
To see more photos from this class, click here!
-Maarten Buijsman, Instructor