Cynthia, Tom, and Jan enjoyed a cool morning start in a sun-warmed pool for their 102 kayaking class. Cynthia and Tom both have sit-on-top kayaks and wanted to learn more about how they can do self and assisted rescues. Jan was interested in learning similar rescues for sit-inside kayaks. We started with sit-on-top rescues.
The students learned that it is
important to kick your legs so that your body is horizontally in the water at the surface, before you pull yourself onto the kayak. We continued with the assisted rescue for two sit-in kayaks: the T-rescue, in which you drain one sit-in kayak, by pulling it over you lap. We ended the morning class with using the paddle float, which gives you extra buoyancy, to do a self rescue.
Cynthia beautifully demonstrated how to get back on her sit-on-top by using a paddlefloat as an outrigger and a stirrup (a rope) as a step for her feet. This way, she can use her legs to climb back on.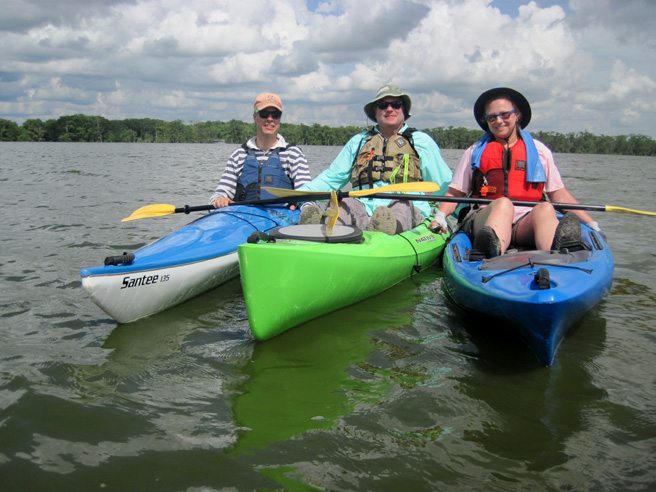 After a good lunch, we headed to
sunny Lake Martin where we talked about what to bring on a paddle trip, what kind of signals you can use,  practiced our paddle strokes, and learned how to lead a group. Most importantly, we wandered, or paddled, around the pretty cypress trees and enjoyed the blooming water lilies. Around 4:30 we came onshore and debriefed a full day of paddling.
-Maarten Buijsman, Instructor
To see more photos from this class, click here!