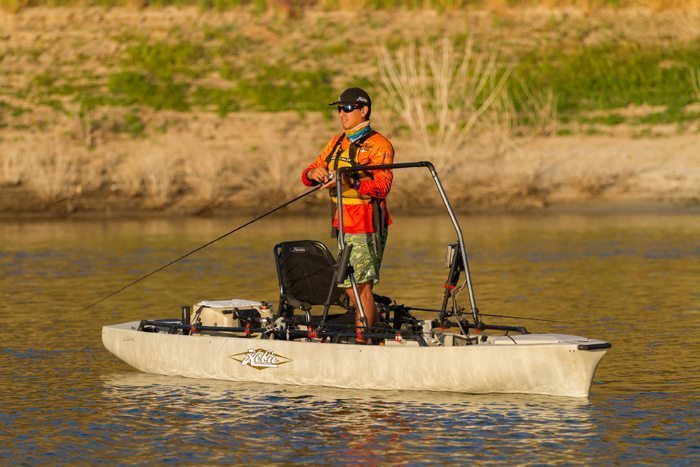 Pack & Paddle is excited to carry the newest Hobie kayak – the Hobie Pro Angler 17 Tandem! It's a 17 foot-long kayak that can convert from a 1-person to a 2-person, to suit all of your boating needs.
Check out this video, photos, and all of the details below:
[youtube]https://www.youtube.com/watch?v=kSoEI17_1uU[/youtube]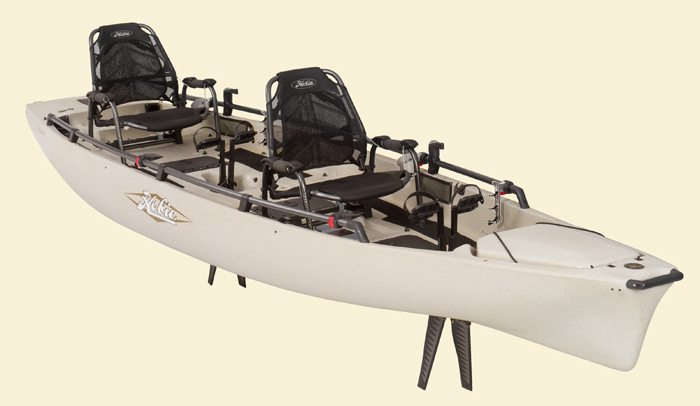 Info from the manufacturer:
It is with great pleasure and pride that we announce our newest addition to the Hobie® Mirage® Pro Angler Series, the Pro Angler 17 Tandem. There have been a tremendous number of requests for a tandem PA ever since we first introduced the Pro Angler 14 in 2009. The wait has been well worth it — this is without a doubt the most feature-rich boat we have ever built.
As the name implies, the PA 17T is a 17-foot tandem fishing boat with the same family looks as the PA 12 and the PA 14. It has a 43.5" beam, and a 900 pound carrying capacity, and will be offered in Dune.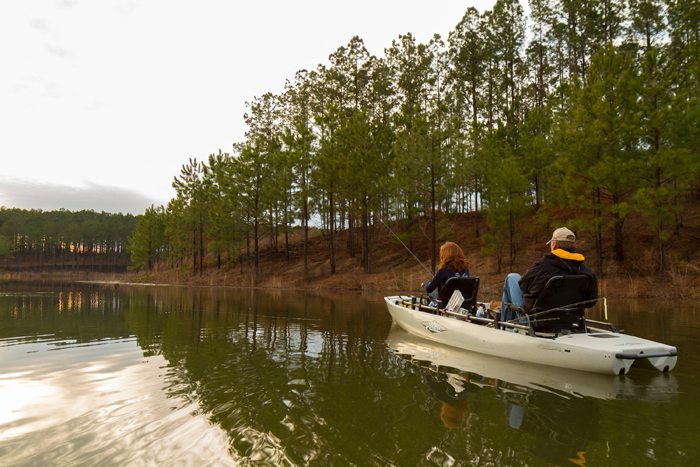 The PA 17T offers three distinct seating arrangements: for two passengers, choose between traditional in-line tandem seating, or turning the forward seat around to face your crew mate for a more social outing.
The PA 17T features a special MirageDrive® for use in the forward well that can be pedaled from either side without turning the drive around, so you are always pedaling with your partner even when facing each other! A third MirageDrive well allows a solo passenger to place their seat in the center of the boat for perfect trim even when alone.
The boat includes two MirageDrives with Turbo Fins, and one of the two is outfitted with the special idler pulley and pedals that allows the either-side pedaling as described above.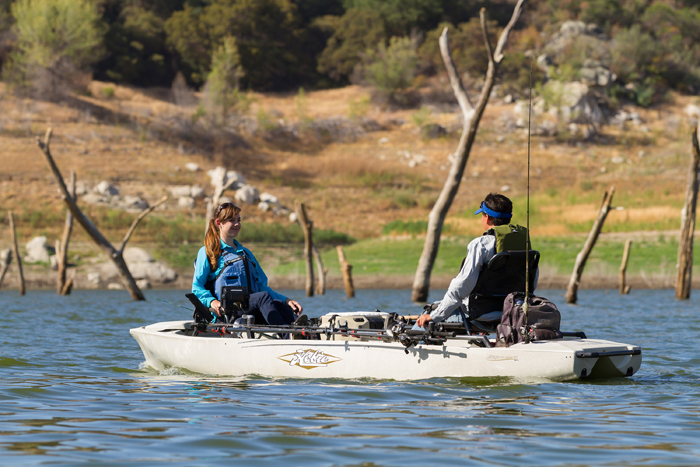 Speaking of seating, the PA 17T features its own two Vantage XT Seats. We've taken the extremely popular Vantage Seat, and because of the increased stability in the PA 17T hull, added longer legs for an extra 3" of height in the low position, and still the opportunity to raise the seat another 5" from there for the best vantage of all.
We have also incorporated the kick-stand into the seat frame rather than into the boat. The best view in town, with the comfort of your living room —- what better way to spend the day on the water? Of course, like a true Vantage seat, it is perfect for use on land as well.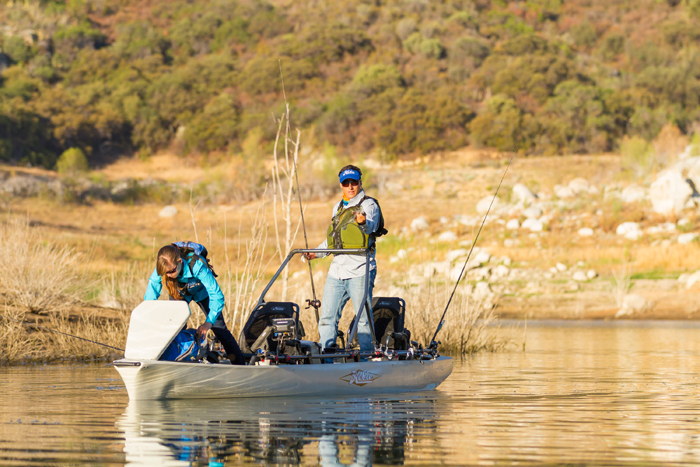 And the features just keep on coming:
Hobie H-Rail Mounting System will revolutionize customizing your personal fishing craft. This patent-pending system features a dodecagon (12-sided) rail that runs along each side of the boat, providing quick and easy attachment points for our new H-Rail Cup Holder, H-Rail Horizontal Rod Rack, H-Rail Mounting Plates: all standard equipment on the PA 17T.
Steering System features a larger rudder and a drop-down tracking keel to make it easy to hold your course on long-distance runs in challenging conditions.
Rod Storage galore: Twelve rods, ten horizontally and two vertically, can be stored accessibly while conveniently out of the way.
Hull Inserts for easy installation of optional accessories such as anchor trolley kits, drift chutes, and stakeout poles.
Battery Mount Platform accommodates optional Trolling Motor with Custom Mount.
All of the amazing features found on the Pro Angler 12 and 14, including the Lowrance®-ready transducer mount system; large bow hatch with liner; three rectangular hatches — two outfitted with our exclusive Pivoting Tackle Management System. The mounting plate configuration is unique to the PA 17T, because of the integrated H-Rail system.
The PA 17T weighs 230 pounds fully rigged with all of its standard equipment