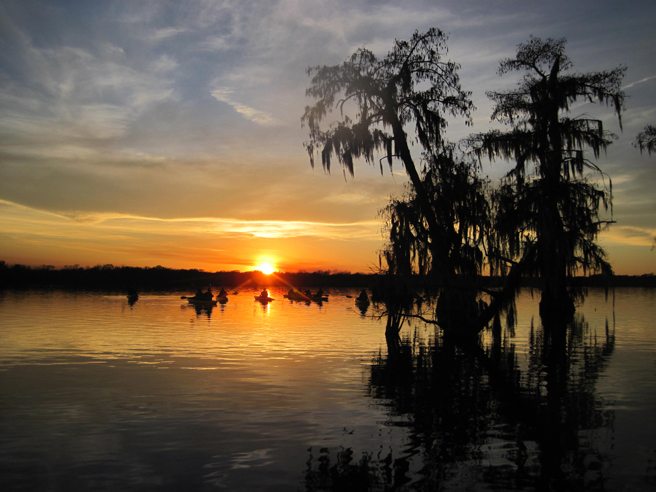 Lake Martin is truly a wonderful place that never gets old, especially when you have perfect weather and a perfect sunset. We put in on time, but with the early sunset at 6:00 pm, we had to get in and get moving without delay.
We got our sunset photo and started moving to the south end of the lake toward the nesting grounds. With plenty of Egrets, Cormorants, and Great Blue Herons, we also spotted an owl in flight. The cricket frogs were defining just as dark had fallen. We had made it half way around the lake before we crossed over and headed back into the boat launch.
Our group of 20 was very helpful and quick in getting the boats back onto the trailer. I think they knew we were having Hub City Diner's super awesome Meat Loaf, which is the BEST meatloaf I have ever had.
As we are finishing our diner, another group of horseback riders caught our attention while they were trying to get a stubborn horse back into their horse trailer. Nothing seemed to work until I came up with this really great idea (not really, but I am taking credit for it anywayJ) to use some of the oatmeal raisin cookies to encourage the horse into the trailer. After a few minutes of leading the horse bite by bite, step by step, inch by inch, and finally he made his first step onto the trailer…………..And then backed up further than where we started.
Even though "MY" great idea did not work, there was a much more experience lady in our group that did have the right technique to get the horse back on in seconds. Great Job!
It just goes to show you, you can lead a horse to Lake Martin, but you can't get him to leave, on his own at least.
Go wild, get outdoors!
-Kevin Wallis, Trip Leader