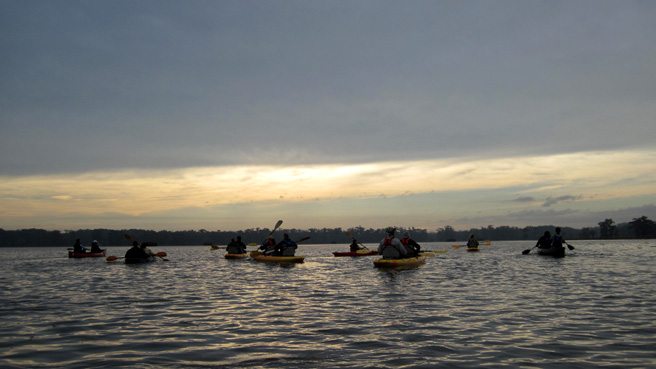 We departed Pack & Paddle shortly after 7am, with a cheerful and exuberant crowd. After a short uneventful drive, we arrived at Lake Martin and unloaded our gear. After a brief review of paddling protocol we put the boats in the water and spent a few minutes acclimating to our new craft. 
We started our adventure paddling North/West around the periphery of the lake outside of the Cypress and Tupelo stands, reaching the mid point of the lake we maneuvered our craft into the quiet solitude of the Cypress where we enjoyed the inner sanctuary of Lake Martin, watching the aquatic wildlife and multiple species of amphibians and reptiles that abound in this very special lake. Song birds, Blue Herons and young Egrets abounded, and entertained us on our voyage.
Our unhurried trip was roughly crescent shaped and when we arrived back at our starting point, we enjoyed a delicious breakfast prepared by the Hub City Diner that consisted of fresh fruit, yogurt, crescent rolls, coffee, hard boiled eggs and orange juice. It was a veritable feast and thoroughly enjoyable.
For desert we had some of the best Birthday Cake, I have ever had. Courtesy of Sparky, who was celebrating her Birthday with some friends. HAPPY BIRTHDAY Sparky!!!
It was a pleasurable trip, and was a gratifying and welcome way to start the day. Thank you all who attended.
-Jon Perkins, Trip Leader