We had a small group of 7 people ranging in age from lower 20's to our eldest who has a 5 and 7 in his age, not necessarily in the order. We met 3 people at Chicot State Park an hour after we left Pack & Paddle, with a minimal threat of rain only for the early afternoon. We launched at the north landing where we met up with other kayakers headed out to fish and camp.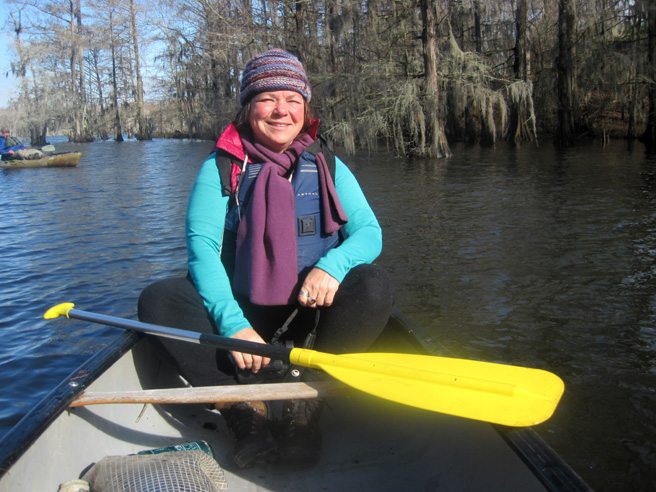 We headed straight to our campsite, with no rain, so we could set up our tents and have lunch before an afternoon paddle. Every hour that I checked for a weather update, the chance of rain increased. Fortunately, several folks followed my suggestions of putting plastic bags over their feet to keep them dry AND I brought a tarp to provide us shelter, just in case. And rain it did, all afternoon and all night.  At 3 o'clock we decided that the rain was not going to stop us from paddling, we returned to the campsite at 5 a little wet and a little cold. On our return, a couple of the guys build a fire in the intermittent rain while I heated up red beans, rice and sausage.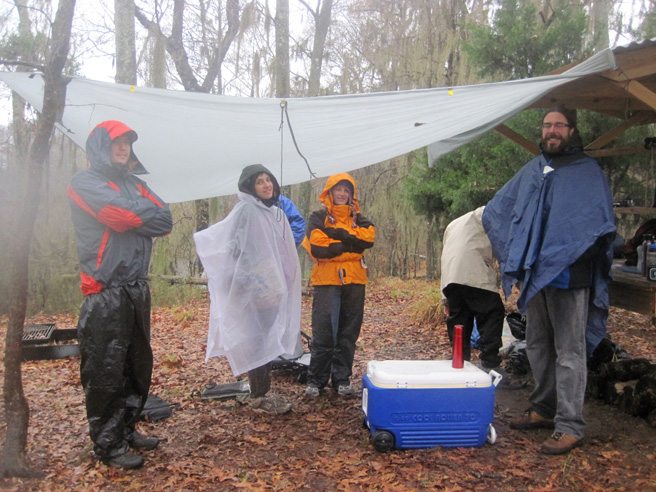 The rest of the group enjoyed the fire until the food the ready and the rain came down too hard to brave it anymore. It was great talking to everyone on the trip, we all found how wonderful and special each person in our group was. We would have liked to talk all night but instead retired to our tents rather early which gave us plenty of time to sleep as rain pattered our tents.
We arose Sunday morning to cloudy skies but NO rain which turned to sunny skies and a beautiful day. I made eggs, bacon, coffee and we had a few treats from Great Harvest bakery.  We left our gear at the campsite to dry off as we headed out for a long morning paddle and exploration.  On our return, we stopped to watch an American Kestrel (our smallest raptor) fly about then perch on a tall snag close enough for us to see its awesome colors and markings.  This was a nice meditative moment, then I pointed out an adult bald eagle flying across a sliver of land just before us. What an awesome way to end this part of our paddle before tearing down our campsite and heading back to civilization. Needless to say, we were the only people out there camping except for the other kayak group that we thought might have gone back once the rain started. We had a leisurely paddle back to the north landing through the most beautiful stand of cypress and water tupelo in the park.  When we were almost through tying down the boats and stowing gear, here comes the other group of kayakers with tall tales of braving the frigid temperatures and torrential downpour.  Good to know we were not the only crazy folks out there.
To see more photos from this trip, click here!
-Stacey Scarce, Trip Leader