Learning to use a GoPro camera has been a whole new learning and creative experience for me.  To me, everything is about story telling.  Whether you or a teacher, a salesman, or even the president of the United States, being able to tell stories allows others to understand your point of view.  Everyone is unique and has a story to tell.  That's where the GoPro Camera comes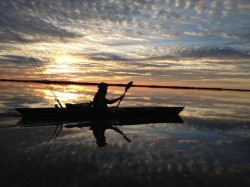 in.
In case you don't know me – let me tell you a story.  Seven years ago, I went on a kayak fishing trip to Grand Isle.  Ever since, I have been hopelessly addicted to kayak fishing.  I want everyone to know how much fun it is to experience our wild marshes in this way.  The GoPro has helped me to do this.  So every time I go fishing, I mount my little GoPro on the back of my kayak and
No matter what your story is – you will be able to tell it better with this amazing device.  It's really inexpensive (as cameras go) and super easy to use.  Like any new endeavor – you just need to jump in and make it work.
To see some of the videos I made – you can visit some of the links on this page.
I hope you'll get inspired and come to visit with the experts here at Pack & Paddle about GoPro.  We'll help you learn more about these little wonders and launch you into a new world of creativity!