It was a beautiful August afternoon when we shoved off from the North landing of Chicot State Park near Ville Platte, Louisiana. The sun's rays highlighted the wonder of nature as we paddled through a majestic field of American Lotus pads on our way to the shade of the thick cypress and tupelo flooded woods. Our group was diverse with paddlers hailing from different parts of the World and the USA together enjoying natural beauty of the Park.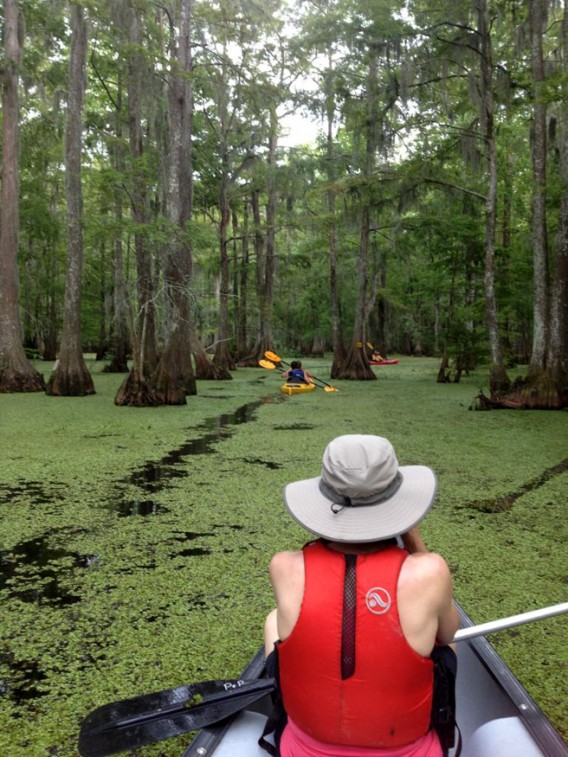 Our group wove through the Northwest fingers of Chicot Lake moving on to explore periphery of Turtle Island, keeping off the beaten path and away from power boats and the public. We then shot through the gap at Long Island and stayed close to the West bank, remaining in the shade while the sun descended and veiled itself behind some cheerful clouds. Moving out to the open water near the East landing, we rested and enjoyed each other's company while relaxing in a light breeze, making new friends. On arriving back at the North Landing we realized we had been on the water for 4 hours, our adventure being a wisp of time that floated by suddenly.
Not wanting the day to end so quickly we moved the boats and up to nearby covered pavilion that provided shelter and a place to enjoy our meal while we reminisced over the day's paddle and the complexities and wonder that surrounded us today. It was a Wonderful day.
-Carl Schexnayder, Trip Leader