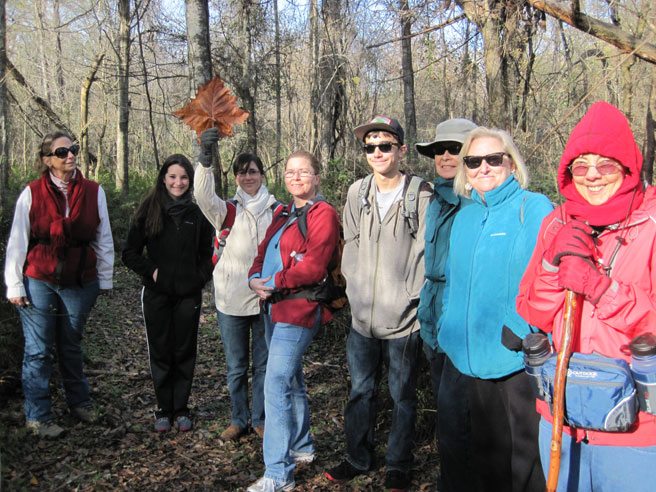 Once we left Pack & Paddle, we had a second meeting place at the Atchafalaya Welcome Center at the Butte LaRose Exit.  If you haven't been here, stop in and watch the short film about the swamp, it is pretty dang awesome.  Also there are lots of local books and artwork on display. 
We drove north of the levee to get to the parking area to hike. We hiked the nature trail that is surrounded by waterways, it was a safe bet that hunters would not be on such a small piece of land. There is another trail that circles around the waterways but in my experience hunters use this one to get to other trails.  All of the vehicles in the parking area had trailers or tailgates down to unload their 4 wheelers, a good sign that they put some distance between here and their hunting area.
As we turned to make our way back towards the trailhead on the northern end of the nature trail, we found that the trail had too much sitting water to maneuver without getting shoes extremely wet (well except for me, I was wearing waterproof hiking boots). So we turned around and headed back the way we came.  I always like doing that because the trail is so different in the opposite direction and you get to see what you missed.  We walked through the parking area then crossed the levee to take the little known and little used trail to the Atchafalaya River.  The last stretch of trail is through the woods, down the embankment to the river.
This is a nice relaxing way to end the day, overlooking that wonderful river, watching the current create delightful water designs. We headed back to the parking area to eat our red beans/rice and sausage, french bread and bread pudding. Thanks to Jimmy at Hub City Diner for packing extra bread pudding, the second piece was even better than the first!
To see more photos from this trip, click here!
-Stacey Scarce, Trip Leader