What attracted us to carrying Costa Del Mar was their complete focus on sunglasses for use around the water. Because of the popularity of kayaking and especially Kayak Fishing, we wanted to offer a fishing sunglass that was second to none.
After trying a pair out in the Biloxi Marsh, I think we made the right pick.
My initial impressions of my new Costa 580's were two: First off, they were incredibly light for a glass lens sunglass. I like glass lenses for their durability and optical clarity. The 580's felt as light as non-glass lenses.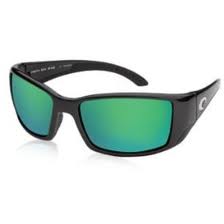 The second impression what the amazing contrast the 580's gave me on the water. Everything looked cleaner, clearer and crisper.
As I worked back deep into the marsh I started noticing redfish everywhere. I think I had gotten used to not seeing them with my old glasses – so it took a little while to realize how easy they were to spot with my new Costa's. When I got back to a shallow pond, I saw a dozen or so fish tailing with their backs out of the water.
As the tide rose, the fish were below the surface so I had to depend on my sunglasses to let me see through the glare of the water's surface.
The 580's were nothing short of incredible for sight fishing. I would go as far as to say that it was a whole new game compared to my old polarized glasses.
If you are looking for the best performance on the water or off, come by and take a look at our huge selection of Costa Del Mar sunglasses.