We met most of our group at Chicot State Park because they were staying in the cabins, having driven in from New Orleans for the weekend. We put in at the south landing since it was right next to the pavilion we reserved for lunch. There was rain heading our way so we unloaded the boats in a hurry and got on the water in record time.  We meandered through the cypress and tupelo not stopping to do our usual talks of what the Basinkeeper does for our state. We paddled and enjoyed the natural world around us.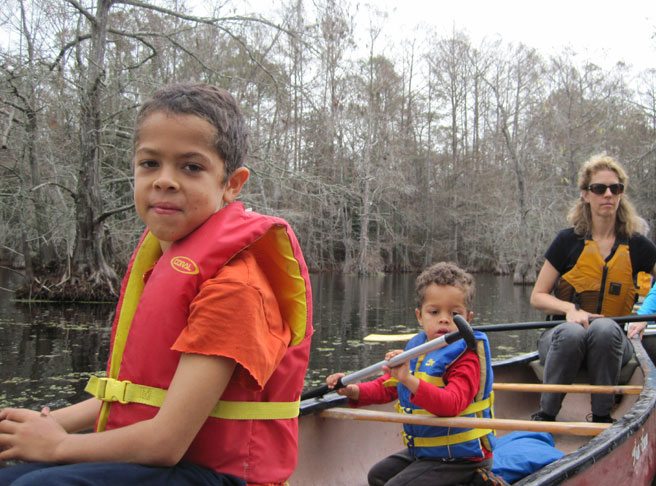 When the sky started losing its brightness, we started our return paddle.  We got a close-up view of the cabins on the water, talked to some folks enjoying them then headed back to the landing.  We also loaded the boats in record time, everyone drove over to the shelter except for the two cyclists that helped me tie down the boats. As soon as I finished up, the rain appeared, not to let up for the rest of the day.
We all gathered under the shelter to have wonderful conversations, lots of laughter and lots of food.  Dean brought along some cold beer and cola's to keep everyone content while he fried hush puppies and fresh catfish he bought from a local fishermen.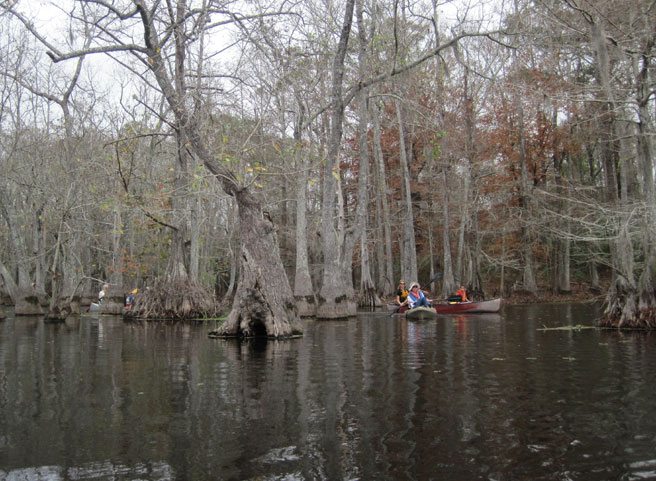 Once everyone ate, Dean gave a talk on the purpose of his work, the relentless fight for us to fish, paddle, hunt, photograph and enjoy our swamps without them being destroyed by clear-cutting or pollution. He told us what they are working on now and the successes they have had in the past.  It is always a real treat for me to hang out with folks such as Dean Wilson and Cara Leverett because of their generous attitudes towards making this Earth a better for all of us to live.
It is also a real treat to hang out with the folks that go on these Basinkeeper fundraising paddles because you know they care and that always brings a smile to my face knowing that there is lots of hope for our Atchafalaya Swamp to remain a wilderness for generations to come.
To see more photos from this trip, click here.
For more information on the Basinkeeper organization, go to their website: http://basinkeeper.org/
-Stacey Scarce, Trip Leader