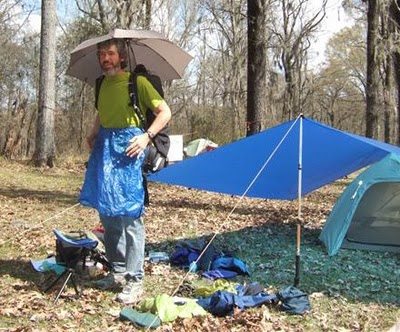 Last weekend, Becky and I attended the Louisiana Hiking Club's annual Campfest at Chicot State Park. We set up a small table with some of the latest cool "must have's" from the store. Things like ultra light alcohol cooking systems, Shoes with built in gaiters, new trekking poles from Black Diamond, Sil-nylon tarps and of course, the grandaddy of them all: The Banana Guard.
Over and over, people would walk up and look at the gear and when they saw the Banana guard, either confusion or laughter would take over their face. We had lots of fun demonstrating how their banana would not get bruised if they had a Banana guard. As you can imagine, the comments got a little out of control at times. Maybe you had to be there. Or maybe you have to know the type of hikers we are at these things.
The fun continued when I gave two seminars: One on lightweight backpacking and the other on staying dry on the trail. Both were well received, but the high point was when I was demonstrating a technique that is the ultimate for staying dry while backpacking in the southeast. First, an umbrella is installed onto the shoulder strap of your pack (pretty geeky). Then, to top it off, I donned the new Sil-Nylon Rain Kilt (there may be no higher level of geeky-ness). By the time the kilt was on, everyone was laughing, hooting and having a great time.
Around Lafayette, you'll hear country folks ask "Who are your people?" (meaning family). For Becky and I, we were most definitely with "Our People" at Chicot Saturday. Outdoor people have a zest and love of life that's infectous. We loved being there with the club and look forward to next year. I just don't know how I'll top the Banana guard!