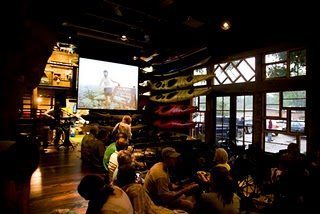 In case you missed it, our opening night in the new room was fantastic. In this blog, I am going to let the pictures speak for the evening. I will narrate as I show you some shots of the building:
This is a photo of how the room looks in daylight with some random slides of trips we've taken, the construction process and some group shots of Pack & Paddle trips from this year. This was during the open house and folks were able to mill around and check out the new space.

These are some pictures of Becky and I with Matt and Amy. We had a wonderful time with family, staff and tons of friends that showed up to give our new space a great send off.
Around 7, I spoke about the things we've been through as a staff and a family in the construction of this new space. I talked about the shared journey that we have taken together and how it relates to the outdoor experience.

Here's a picture that is real special to me (right). It shows me speaking to the crowd with my parents (founders of Pack & Paddle) in the background.
Around 7:15, it was time for Nate to make his entrance. The crowd was very fired up and amazingly loud. It felt almost like a rock concert. This picture shows Nate walking out of the back room towards the stage. I can say that for me, this was a really exciting moment. We had visualized the idea of this venue months ago, and watching it come together in that moment was very satisfying.
This photo (right) shows a view of the room with some of the crowd. You can see Nate reflected in the windows. Everyone commented on the feeling and "vibe" of the room. In retrospect, after months of work, I can say that the feeling of the love that we put into the design and building of this space comes through.
The photo on the left is a great shot of Nate performing. He showed slides of his historic walk of the West Coast while inspiring us with his music on the guitar and banjo.
One of the things I loved about the night is how comfortable the room felt in terms of beauty and grace. Everything just fits together perfectly to create an intimate and cool feeling for an event like this.
Here's a picture of how everything looked from outside the shop. We love our window wall!!!
Well, the opening night has come and gone. It was more exciting and satisfying than I could have imagined. To see a dream become reality is a fantastic feeling. To be able to share it with friends, family and most importantly, all of our wonderful customers that have meant so much to us over the years. This venue has always felt like it would be a gift to our community. The special evening we had Saturday was only the first of many wonderful evenings to come. We so much enjoyed sharing our venue with you and look forward to many more great nights together in the future!
Special Thanks To:
The nearly 200 outdoor folks that came to experience our initial event. It was a blast!!!
All of our staff, friends and family that worked on this project with us. Your help was critical and appreciated.
Our lead carpenter – Pops a.k.a. Gerald Istre.
Catherine Schoeffler – for glazing all of our old windows.
Great Harvest Bakery for all the great breads and sweets.
Mountain Khakis, Patagonia and Chaco for their generous donations of product for us to give away.
Ed Boustany and his scout troop for coming out to help us with the parking.
I would like to say thanks to our friend Jason Cohen who took all these photos. He's a talented professional photographer. He does incredible work on weddings and other photography jobs. You can link to his site at http://www.jasoncohenphoto.com/