A few weeks ago we received an invitation to compete in a merchandising contest for one of our clothing brands. Prana is having a contest to see what store can create the best display of their products. I started talking to Amy on our staff about what we could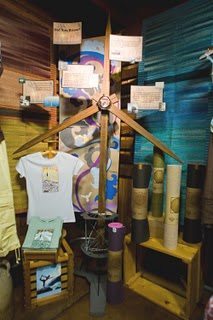 do that would be interesting. We wanted to do something that would tie in with Louisiana and still connect with the Prana brand. We let it simmer for a while and when the deadline started getting close, we finally had a breakthrough.
We had just seen the movie "Wind Over Water" at our Sierra Club Film Fest movie night. This movie outlines the effort (and problems) associated with creating a wind farm around Cape Cod. Amy remembered talking to Harold Schoeffler about a similar effort here in Louisiana where abandoned offshore oil rigs could be fitted with wind turbines to create electricity. Since Prana has a large effort in all things green, we thought it would be a great tie in to the Prana brand from an environmental standpoint.
We started off thinking of printing out some pictures of oil rigs and wind turbines and creating some signs around our displays. About the time we were stagnating a little, the power of community (and holding the strings loosely) kicked in. All of our staff members got involved: Loren said "how about if we make a model of a wind turbine on an oil rig out of scrap lumber?" He spent parts of several days creating a really cool wind turbine out of an old display fixture and some scrap wood we picked up at a cabinet shop. Kristen painted a mural to go behind the turbine that helped to make it show up and added a really artistic flair to the project. Jamie found quotes about wind power as well as Prana's approach to green energy as well as lots of graphics on oil rigs and wind turbines. Then Matt took the quotes that Jamie found and built some signage for the display. Amy took all the pieces and put them together into a final display. Today a friend who's a photographer is going to come and take pictures for us to turn in to Prana.
What started off as something we didn't really want to do has turned into a true community effort at our shop and we're really excited about the result. We're hoping for VICTORY over all the other sub-standard displays other shops from around the country will turn in. I guess whether we win or not – we had a great time as a group building this project and bringing something interesting and new to Lafayette through our shop. Come by and check it out when you get a chance!