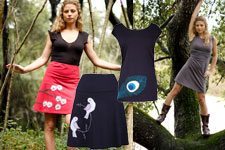 We're happy to bring a unique new clothing company to Lafayette.  We love the use of organic cotton, fair trade practices and the nature-centric designs.  Here's what Synergy has to say about themselves:
Synergy was launched in 1995 by Kate Fisher, in the midst of her extensive travels throughout Asia.Synergy was founded with the vision of being a synergy of design influences, drawing on traditions of rich textile design and infusing a fresh modern design ethos. She later partnered up with her husband Henry Schwab, after the birth of their first child. Together they have integrated her interest in textile design and fashion, with his experience of having worked for GreenPeace and co-founding Phish's touring division of The Waterwheel Foundation. With a shared vision of a sustainable business model, and the help of many, they are bringing Synergy into the future.
Synergy makes clothing that combines sustainability, with modern yet timeless design. They strive to make clothing that looks good, while being gentle on the Earth. We predominantly work with G.O.T.S certified organic cotton from India, that is dyed with low impact dyes. Our clothing is hand made in Nepal according to fair trade practices, verified by our long-term relationships with our manufacturers and our frequent trips to Nepal. Each season we look for ways to minimize our footprint as a business, in both the ways our clothing is made and in our daily operations.
Synergy looks to the world around in its approach to design, taking inspiration from both the natural and urban landscapes, in addition to modern and ancient cultural influences. We specialize in making clothing with touches of graphic details such as hand-stitched applique work and water-based screen prints. It is our goal to make women feel good when they wear our clothing, while feeling good about the way it was made. We hope you enjoy!