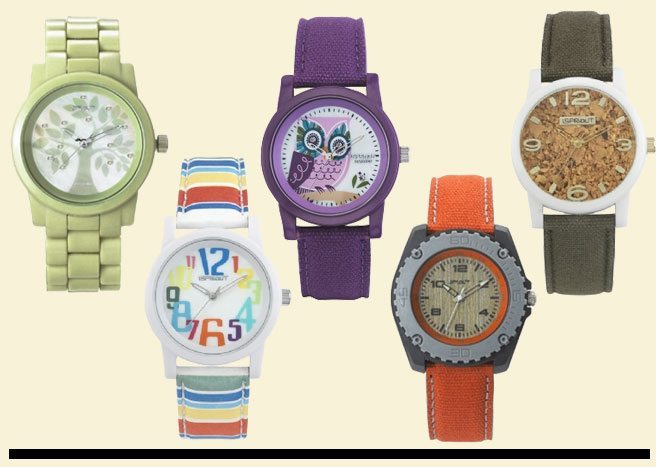 Spout Watches are fun, functional and eco-friendly – made for men & women in an array of styles! Something that sets this company apart is the unique & natural materials used in production & packaging.
Info from the company:
Eco-Friendliness: The small size Sprout watch is 80% eco-friendly (by weight) The large size Sprout watch is 86% eco-friendly (by weight)
Materials: Diamonds, Corn Resin, Mother of Pearl, Organic Cotton, Tyvek®, Bamboo, Mineral Crystal, Recycled Fibers, Mercury Free Battery, Fish Skins
Who We Are: A company that, after more than 50 years producing best-selling timepieces, set out to create a line of high-quality, affordable eco-forward watches. From the start, we made the conscious decision to be materialistic in a most unusual way. From corn resin, conflict-free diamonds, bamboo and cork in our watches to recycled content in our packaging, we focused on materials that are easy on the planet. Our strength lies in our long-standing passion for the traditional art of watch-making combined with an eye for design and an entrepreneurial, free-thinking spirit. The way we see it, it's all about choices-the ones we make in our day-to-day operations and the ones we give consumers by offering an alternative to the status-quo.