We're excited about this years Spring Kickoff to the paddling season.  It's going to be more fun than ever.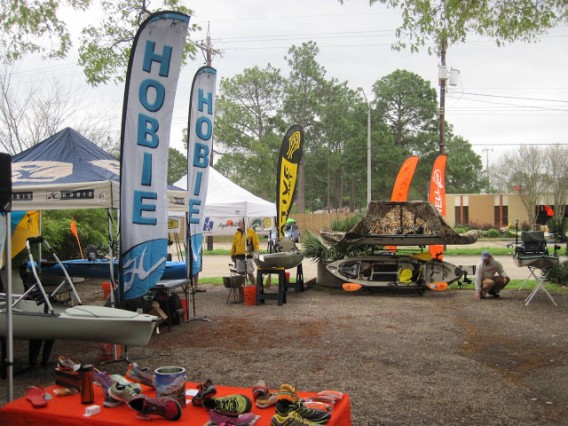 We've created some brand new events for you to enjoy and get excited about paddling!
Beer and Gear Social Night – Friday March 8th 4:30-7:30pm
The name says it all!  Spring Demo Weekend will kick off on Friday night at Pack & Paddle at 4:30pm with our first – ever Beer and Gear night.
All of our paddlesports reps will be on hand to talk boats with Lafayette.  Even better, there will be a cooler of beer at each booth for you to enjoy!  Members of all our local clubs will also be on hand to tell you about all their upcoming spring trips and events.  At the Beer and Gear Social night you will learn about all the new kayaks and gear for 2013, get ideas on where to go paddling, and enjoy hanging out with the outdoor
community of Lafayette.
Each attendee (21 and over) will be given a ticket to a drawing to be held at 7:00pm.  Someone at Beer and Gear Social night will be the lucky winner of a brand new Native Ultimate Kayak!  Must be present to win.
Paddling U  –  8am Saturday, March 9th
We'll be teaching Kayaking 101 and StandUp Paddleboarding 101 on Saturday March 9th from 8am-10am.  These classes will lead directly into the demo.  Come out and learn to paddle – then you can enjoy the day demo-ing dozens of great kayaks!  Spaces are limited.  You MUST sign up to participate.  Call 337 232 5854.
 Kayak and Canoe Demo Day – 10am Saturday March 9th
Try out dozens of kayaks from Jackson, Hobie, Wilderness Systems, Native Watercraft, Yolo, Bote Board and others.  It's all free and all fun.  Come out to Vermilionville on Saturday to try out these new boats!
Sunday Sailing Demo – Sunday March 10th
We've set up a special Sailing and Paddleboarding demo on Sunday, March 10th at Cypremort Point State Park.  This demo will feature sailing kayaks from Hobie such as the Adventure Island and Island Tandem as well as a variety of paddle boards.