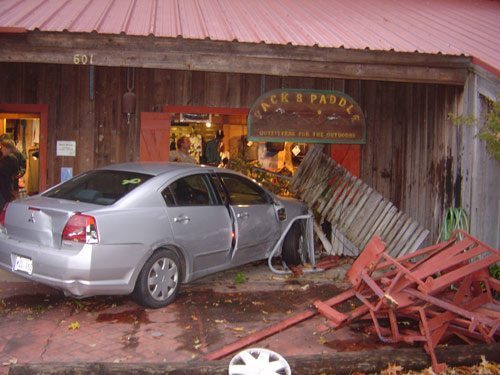 As most of you know, the front of our shop was turned into a drive-thru by an out of control car last December. Since then, we've taken some time to decide what we wanted to do with this area. Since it's the front entrance of the shop, we wanted it to be in keeping with the building – but also wanted to do something different with it.
We have finally finished repairing the window and wall that were knocked in during the crash. For the project, we hired our good friend Mark Menou. Mark is one of those people that can do pretty much anything. Plus – he and his wife
Jennifer have a fun, funky and artistic flair that we thought would add to the project. Mark did all the carpentry and painting work on the project and we couldn't be happier!
The way this window came together was this: We had decided to use some of our old windows from the previous project in the boat room. While searching around in the back, I came across three flat objects wrapped in brown paper. I pulled them out from the dust in the back of the garage and found some beautiful leaded glass panes. We then called another friend – Claude Martin to come by and help us create a panel. We started working on the design of the panel – but needed something to make it all come together.
That's when I thought of a stained glass panel that was up in a wall at the top of the shop in an area that nobody could really see. Claude took one look at it and said "That's it. Get that window and it will go right here in the middle".


This window was in an area of the shop that was originally the office in the late 70's. This photo shows my mom sitting at her desk probably the first or second year we were open at this location. Notice behind her (sorry it's a little washed out) is the window that we reclaimed and made the centerpiece of our new window. In talking to my dad about the leaded panes, he told me that those were panes taken out of my great grandmothers house during the depression in Bridgeport, Connecticut.
We're very excited and proud of how the finished window came out. We hope that you will come by soon to see – But please – leave your car outside!