Overview: West Cove is a great place to fish year round but can be especially good for big trout in May/June.  West Cove has lots of options for fishing redfish, trout, flounder and croaker.  Many flounder may be caught in the West Cove Canal itself all along the banks and points.   There are some marsh opportunities off of this canal.  Just take the second cut on the right and this bayou goes way back.  It does get shallow and you may want to carry a GPS if you plan on really exploring this area.
Once in the water you will have the option of fishing the canal or heading into West Cove.  The cove is full of submerged reef areas. The further east you head the more reef you will find.  The southern bank has several washouts all along the coast to the Old Camp Canal. Fish the banks and points for redfish, croaker and flounder.  Definitely be on the lookout for birds working out in the main water of the cove.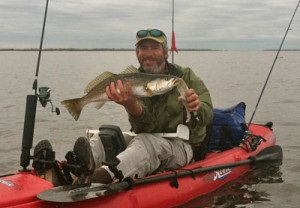 Look for motor boats fishing where there are no birds.  This could indicate a local fishing a good reef.  There is a huge reef Northeast from the old camp canal heading towards Rabbit Island.  Either look for boats, birds or feel for reef with stab pole/chain on a rope or use your depth finder.  It's fairly deep reef (4-6′) and trout will hit topwater baits at this depths.  Look for bait over these reefs and you're sure to find fish.  Fish the drops offs of the shell ridges and find fish suspended along the ridges.  Plastics, Plastics under corks, top waters, corky style baits, live or dead bait all work.
Launch Type: Concrete Power Boat Ramp- double
Tides and Winds:  This area works best on either a falling or rising tide – but pick a day that has good tidal movement if possible.  The best winds for this area should have an westerly component (NW, W, SW) or be a very light wind (under 5-8).  A direct North or South wind with no easterly component can work as well.
What you want to avoid are winds with an easterly component (NE, E, SE) that are over 5-8).
What to Watch For: Calcasieu Tides (can be hard to predict), the wind (should be under 15 kts), weather and temperature.  Dress appropriately, always wear your PFD.  Watch for heavy winds and thunderstorms.   You don't want to be stuck in the middle of West Cove in a storm as it's a big body of water.
Additional Notes: Paddling distance is approximately 1 mile from West Cove launch to West Cove and another  mile or so to Old Camp Canal on the south shoreline.  There can be some boat traffic in the canal.
How to Get There:  From I-10 in Sulphur, take exit 20 toward Cameron. Turn left at Ruth St  2.2 mi, Continue onto LA-108 W/LA-27 S about 26 miles.  Look for the Brown and White West Cove Public Boat Launch Sign. There are 2 launches.  The launch closest to the lake (outside the weir) will take you to the fishing areas.
Cost: Free launch.