Choupique Bayou is a tributary of Calcasieu Lake, which flows into the NW end, or used to, prior to being cut off by the Ship Channel and Intracoastal Waterway. The Bayou meanders around a good bit, and has lots of marsh access for reds and flounder.
The launch is basically in the middle of the fishable area, and you can go west (upstream) or SE (downstream). There are trout in the main bayou, catchable on gulp under popping cork, or topwaters early, and you may even see birds working. There are also a few dead end canals and pipeline canals for winter trout fishing, all upstream from the launch. The mouths of the various cuts into the marsh are good for flounder, and you can ease back into the marsh for the redfish.
There is much tidal influence on this bayou, and you can get into some really ripping water, like being in the West Cove canal when it is going in or out. This spot is less affected by recent rains than most of northern Big Lake.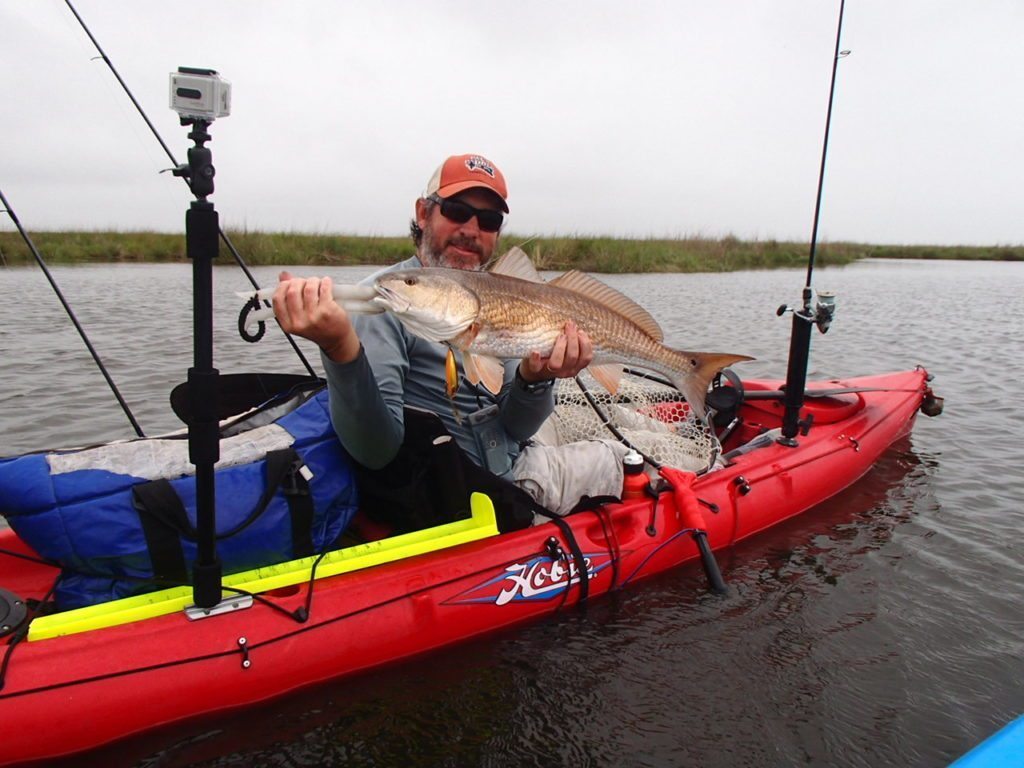 Tackle To Bring/Bait: Popping corks, Gulp, market bait, topwaters, favorite plastics on jigheads What to Watch For: Gnats/horse flies, depending on the time of year so bring a head net. Calcasieu Tides (can be hard to predict, and this is 20 miles north of the jetties, so at least an hour or two delay in high and low tides from Lighthouse wharf), the wind (under 15 kts), weather and temperature.
Additional Notes: Paddling distance is around 2 miles downstream, to where the mouth empties into the ICWW, which tends to get muddy from all the boat traffic. The other way, upstream, one can go for a substantial distance, but the water becomes fresher once past the salt ditch about 4 miles upstream, that comes in from the south, and connects with the intracoastal. There can be some boat traffic in the main bayou, but mostly crabbers and fishermen heading into Turner's Bay.
Tides and Winds: This area works best on either a falling or rising tide – Choupique is one area that actually may work better on a day with less tidal movement. This is also a good area to fish in almost any wind. A strong wind out of the east can push muddy water up into Choupique however. Also – very rainy time periods can introduce fresh water into the bayou hurting the fishing. Winter can bring very low tides to Choupique forcing you to fish mostly in the bayou eliminating the marshy areas.
How to Get There: From I-10 in Sulphur, take exit 20 toward Cameron. Turn left on LA-27. Go south about 8 miles. Go Right on Chilly Westlund Rd. Go left on Hedin Rd. to launch. Launch is just before bridge over the Bayou, before you hit the intracoastal.
Expenses/Fees: $2 honor box