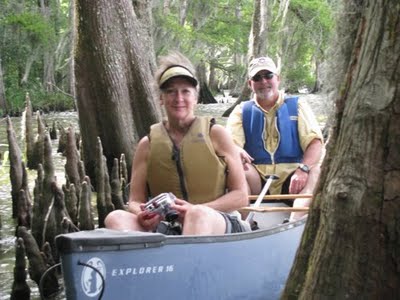 Kayakers and Canoeists in most of the country are putting their boats in mothballs and going into hibernation for the next 6 months. Here in Acadiana, the paddling season is just getting started. As October melds into November, lots of wonderful things are happening for those of us that own a paddle craft.
Gone is the heat and bugs that have plagued the last 3 months. The steady procession of cool fronts will be rolling through bringing the temperatures and humidity down. These breezes will keep the insects at bay as we enjoy the beautiful waters of our area. The leaf change is about to
begin in earnest. All of which make a trip out to Lake Martin, Two O'clock Bayou, Buffalo Cove, Lake Fausse Point, the Vermilion River, Whiskey Chitto or any of the myriad of opportunities we have in our area a special treat.
If you are a kayak fisherman, things are just beginning to get good. The Redfish are up in the marsh, hungrily feeding on the grass shrimp and other critters that have been growing all summer in the back ponds and grass beds as the north winds and lower tides of fall push them out. The Speckled Trout are moving inland seeking the right salinities to spawn. And the flounder action at this time of year is second to none. In other words, Kayak Fishing season is officially on. If you don't have a fishing kayak – now is the time to get one and get in on the fun!
If you enjoy the company of a group when you head into the outdooors, the trips hosted by Pack
& Paddle, the Lafayette Paddle Club and the Lafayette Kayak Fishing club are just ramping up into full gear. P&P has a big variety of trips coming up as well as some we have not yet announced. The Lafayette Paddle Club (www.lafayettepaddleclub.com) has a Archaeology Paddle Trip, a Black Creek Overnight Trip, a Christmas Paddle and much more coming up. The Lafayette Kayak Fishing Club (www.lafayettekayakfishing.com) has group trips to Dulac and Cypremort Point as well as a Kris Kringle kayak fishing tournament coming up soon.
Whether you enjoy the solitude of paddling or want to get involved in a group paddle or kayak fishing trip – get your gear out and cleaned up, because Paddling Season in Acadiana is just getting ready to start!