Spring is here, and we're ready with our new shipment of KEEN sandals! Here are our in-store favorites:
The Emerald City Toe Wrap: A comfortable leather sandal with elegant style, the Emerald City Toe Wrap goes from beach to bistro without missing a beat.
The Emerald City Sandal: These stylized
stunners feature a fine full grain leather upper, burnished leather footbed cover and a classic look to perfectly complement your favorite summertime outfits. Flattering details add a touch of sophistication while retaining a casual look and feel.
The Emerald City 3-Point: Simple and refined, the Emerald City 3-Point is a go-to shoe for all day comfort and style. Fabulous full grain leather straps and a fun look make it perfect for warm weather pursuits. Understated elegance never felt so comfortable.
The Summer Golden Sandal: A ray of sunshine for your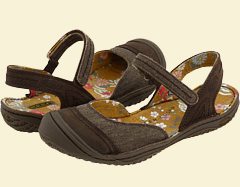 feet, this is casual elegance at its finest. The Summer Golden Sandal's classy look includes a KEEN.CUSH PU and memory foam footbed, plus an adjustable instep strap and natural canvas and full grain leather construction. An open heel and protected toe make this sandal a versatile summertime choice.
The Harvest MJ II: Add funky flavor to your life with the Harvest MJ from KEEN. Bursting with color and personality, the upper is crafted with reclaimed fabric, rewarding your eco-friendly frame of mind. Please note, because of the unique nature of this product, each item is one of a kind.