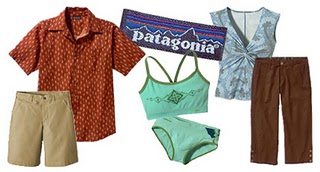 We've just received our Patagonia shipment of clothing for men and women, so now is the time to shop for the best selection of sizes and colors from this unique line.
Womens clothing includes the ultra comfortable, quick drying and wrinkle resistant Vataliti shirt – perfect for travel, weekend wear or a night out on the town. Put the Vitaliti with the Hempshire capri for a great outfit. Don't forget that Patagonia produces the world's most comfortable bodywear. We'll warn you: If you try this quick drying, super comfortable and great fitting bodywear, you won't want to wear anything else!
For men, shop early to get one of the unique A/C shirts – the styles and colors change every year – so you don't have to worry about seeing other guys in your same shirt next year. Shop early for best selection.