Great for Fishing: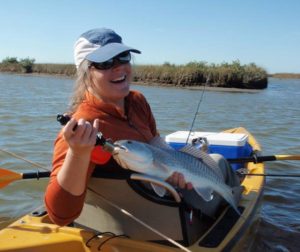 This may be the "ultimate" sight fishing craft for the Louisiana marshes.  It is not self bailing, so use carefully in rough open water situations, but for marshes, bayous, lakes and rivers, the Ultimate 12 is a great choice.  The seat is "all day comfortable" which is key for fishermen.  Store gear easily in front of you or behind.  Lots of room for cooler, tackle, lunch and much more.  The Ultimate is one of the fastest and lightest kayaks on the market that is still stand-up capable – making it a compelling choice for Louisiana fishermen.
Great for Birding and Photography:
Because of the combination of light weight, stability, dry ride and comfort, there may be no better boat on the market to go birding in or to shoot photographs from.  The Ultimate has lots of space for camera cases, coolers and other gear.  The stability is excellent due to its tunnel hull.  You can even set up a tripod right in front of the seat for shooting with longer lenses or using spotting scopes.
Great for Camping and Rec Paddling:
Pack a day, a weekend or a full week of gear into the Ultimate and paddle with confidence.  This boat paddles very efficiently for such a stable boat – making it the ultimate choice for day tripping and overnight camping.  The comfortable seat makes an all day excursion a pleasure.
Choose from Two Great Options:
The Ultimate 12FX has Native's most comfortable seat that is High-Low capable, two anchor trolleys, a quick drain hole, extra gear tracks, rigid molded in thwarts and padding in the footwells and arm rests.  If you want the most comfort and options – choose the 12FX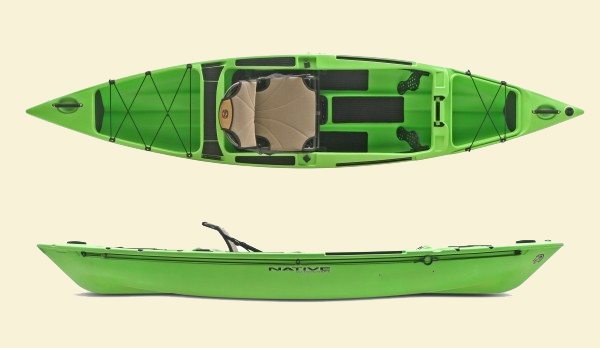 The Ultimate 12 basic takes the tunnel hull design and removes some of the extras and gives you a super stable and fast kayak with a comfortable chair (not quite as nice as the FX) at a value oriented price.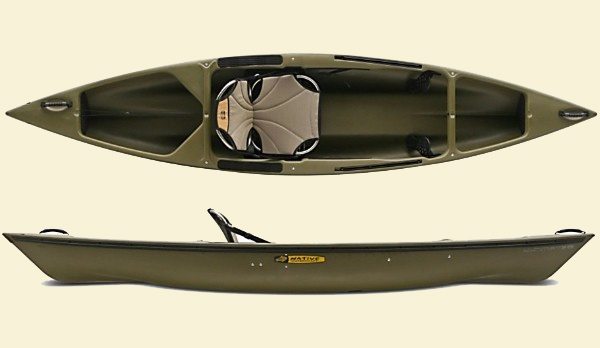 Info from the manufacturer:
Native's groundbreaking Ultimate series of fishing kayaks have evolved to be even more comfortable, stable and angler friendly. The Ultimate FX 12 adds First Class High-Low seating, a wider standing platform, molded in rod stays and two anchor trolleys to the best hybrid kayak fishing platform. Plus touches like bungee over the bow and stern, a quick drain hole with Super Seal Plug, and extra padding in the footwells and on the rear thwart have been added because you asked for them! Performance Promise – Stable ride sitting or standing – Comfortable support for rear end and lower back – Ideal for flat water and up to Class II rivers – Tons of available accessories