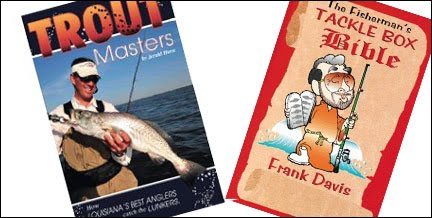 These two books are written about Louisiana saltwater fishing, by Louisiana authors. Both books WILL improve your fishing knowledge and apply directly to the fishing we do here in our home marshes.
The Fisherman's Tackle Box Bible combines Frank Davis' down-home humor with lots of basic information on inshore saltwater fishing. Learn how to fish points and pockets. Learn about lure selection. Learn when to use a popping cork and when to tightline. Learn about rigging for live bait. And much, much more.
Troutmasters is a series of chapters that each focus on a Louisiana fisherman that is well known for their ability to catch LARGE trout. You'll learn about the person – then about the techniques they use to find and catch big trout. A must read for any Louisiana kayak fisherman.