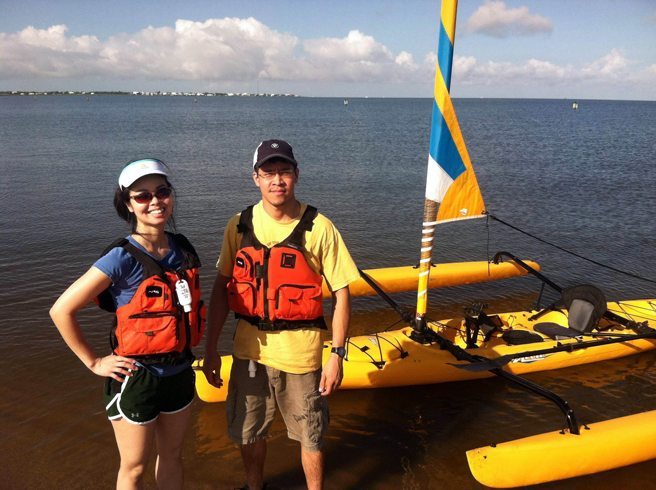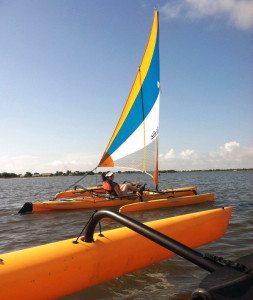 Our first Hobie Kayak Sailing Class was a super success!  We were lucky to have near perfect conditions after a week of heavy rains and dire predictions.  The early morning session was with the brother/sister duo of Jessica and Roger.  They arrived looking excited to sail, but cautious as they had no sailing experience.  We spent 15 minutes on shore learning the basics of wind direction, tacking and sail trimming, then hit the water.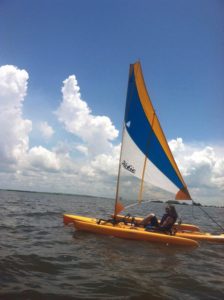 The winds were light but steady as we took our first few reaches across the bay.  Within minutes both of them were smiling and having fun.  I let Jessica completely control the Tandem Island from the front controls with me giving a few tips when needed on our heading or the sail control.  Henry followed along behind mimic-ing what we were doing.  After 30 minutes, we switched up and put Jessica in the solo Island and Henry came with me. Then it was time for them to go solo.
I got a little worried after I watched them get way downwind in the offshore breeze.  It wasn't long though before they remembered how to sail close to the wind and tack their way back.  These folks did great!  No sailing experience when they arrived and then knowing how to sail upwind, tack, jibe, launch, furl and unfurl the sail  by the time they left.  Great job guys!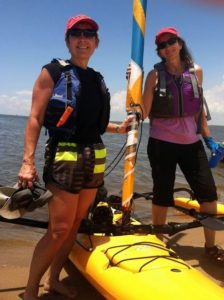 The next pair in the mid day session was Isabella and Laura.  They were friends that met on the P&P Clark Creek trip a few weeks ago.  Isabella was an experienced sailor, but had not sailed a Hobie kayak before.  Laura was new to sailing, but being a science teacher had studied the physics of sailing the evening before the class.  Just like the first group, I showed all the basics and then hit the water.  They were both handing the tandem and solo Islands within minutes.  The winds had picked up a little and we were all enjoying some fast runs across the bay.  Isabella and Laura were great students and didn't need a whole lot of instruction before they were handling the sailing kayaks with confidence.
Overall, it was a fantastic experience to teach this class.  It was fun and exciting plus very rewarding to watch everyone learn how easy it is to sail these amazing crafts.
-John Williams, Instructor