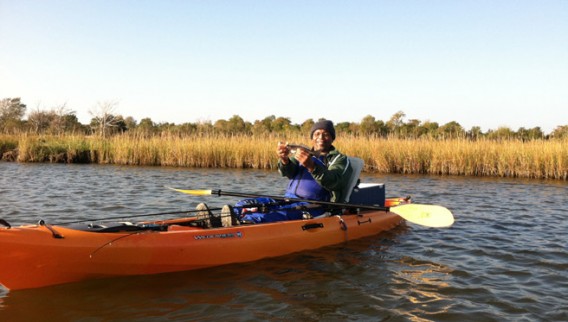 We met at Pack and Paddle around 4:30 am. Roy arrived first and we talked about tackle and equipment until Charlie drove up. Roy and Charlie hit it off as soon as they met. Roy brought up some of the high school football scores from the previous night and the two seemed to forget all about fishing. This was a first for me, usually the people who go on these trips are too tired to say much, or fishing is all they want to talk about.  The two guys decided to ride together, and shortly after meeting we were off to Ponite Aux Chenes.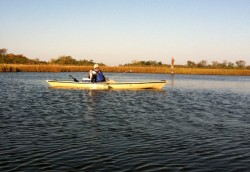 We made it to Theo's Marina close to 7am. The sun was above the horizon enough to give us a good look at the water. There was a light green tint to it, the kind of water that good speckled trout trips are made of. After unloading the kayaks and fighting off the pesky biting gnats we paddled a short distance and found a school of small speckled trout. Roy sat in deeper water throwing back towards an island that the fish were hanging around. Every so often he would have one take his popping cork under. Charlie had a different idea; he worked the shoreline until he came to a shallow pocket with a piling sitting in the middle. Near the piling Charlie found an 18" speckled trout waiting for him.
After a little while the bite slowed, so we moved into a pond where we would find a couple redfish. The wind picked up around 10am, and it made casting a little tough. We decided to move to an area where the wind wouldn't influence the casting as much. Roy picked up a redfish around 22", Charlie lost a small redfish, and had a monster Redfish break his line after fighting it for a while. The fishing slowed just as it was time to leave. We ended up with 3 redfish, 5 speckled trout, and a flounder.
-Tray Collins, Trip Leader