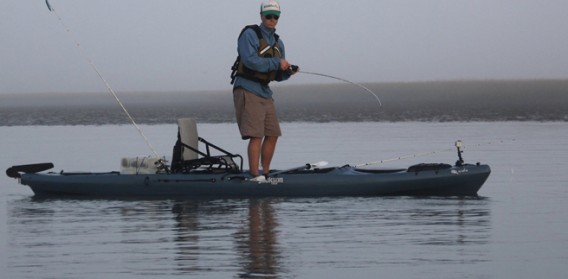 Join us for a unique kayak fishing seminar to be given by nationally known Drew Gregory.  Drew is known from
his popular website riverbassin.com as well as the River Bassin tournament trail.  Drew is also the lead fishing kayak designer for Jackson kayak – maker of the popular Coosa  and the new Cuda fishing kayaks.
Drew will speak on a variety of topics:
Tips and tricks of Stand-Up kayak fishing
The future of kayak fishing
Designing a fishing kayak from A to Z
This seminar is sure to be a great opportunity to learn some new ideas as well as a chance to get an inside look at how new fishing kayaks are created.
This seminar will be held after a short meeting of the Lafayette Kayak Fishing Club.  This event is open to the public and all interested anglers are encouraged to attend.
Meeting Time and Place: Meet at 6pm at Pack & Paddle
Price:  Free Event!


About Drew:
Drew Gregory, "BasserDrew" to many, is a professional kayak angler and an expert in bass fishing America's rivers and creeks.  Drew hails from Atlanta, GA, and currently resides in Charlotte, North Carolina.  He has been river fishing since he could handle a rod and reel, but for the past nine years has been pioneering the sport of kayak fishing in freshwater rivers. Standing up and fishing out of his signature series watercraft, the Jackson Kayak Coosa for any fish that lives in hard to reach, wild water, is his passion.
Drew got into the sport of kayak fishing when he was still in college, because it was cheaper and more intriguing than traditional boat and lake fishing.  Since then, his knowledge and passion for the sport has flourished due to the fact that it easier on the wallet, the environment, better for health and fitness, and a sport that is simply more fun than traditional boat fishing. Drew is passionate about finding new, unexplored water where big bass abound, and will stop at nothing to get to them which sometimes makes for some crazy adventures!
In 2008 he launched RiverBassin.com,  a community of river bass fisherman who also share the passion of floating rivers in predominantly paddle powered watercraft.  From there, in 2010, he founded the River Bassin Tournament trail as a way for these paddle powered anglers to fellowship and enjoy a little competition at the same time.  Bass Pro Shops and other major brands came on board as headline sponsors, and in 2011 the trail expanded to 15 stops across the entire US.
Drew has also been known within, and outside of fishing circles for his now famous goose attack viral video.  In early 2010 Drew was fishing in his kayak, and filming as usual, when a goose decided to take a ride on his back!  Yes, the hilarity that ensued has now been aired on all major networks, national and local news and made the late night show rounds as well.