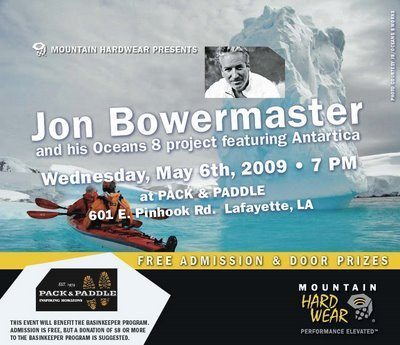 I wanted to give you, my faithful blog readers, the first heads-up on a VERY exciting event coming up in May. Through months of phone calls and emails, we have been able to arrange to bring National Geographic author, adventurer and living legend Jon Bowermaster to Lafayette for a talk and slideshow.
The date for the event is Wednesday, May 6th.
We being with an open house at 6pm where you can meet Jon in person. We'll have food from Great Harvest Bakery and live music with Jane Vidrine. The slidshow and talk begins at 7- but get there early for good food, good friends and a good seat.
This very special event has been made possible through a partnership with Mountain Hardwear. Representatives of Mountain Hardwear will be on hand at the event to answer questions about gear and for give-aways.
This event will benefit the Basinkeeper program which works tirelessly to protect our local wilderness wonderland – the Atchafalaya Basin. (http://www.basinkeeper.org/) In keeping with all events at the Pack & Paddle Venue – this will be a free event. We are asking that all attendees consider donating $10 or more per person that night to this worthy cause. All donations collected will go directly to the Basinkeeper program.
Here's a little background on Jon:
For more than 20 years, writer and filmmaker JON BOWERMASTER has explored the environment and exotic corners of the world for a variety of national and international
publications, primarily for the National Geographic Society and the New York Times.
Author of eight books, three with renowned polar explorer Will Steger, his travels have taken him to seven continents and included two-person sledging across Antarctica, sailing a 60-foot sailboat across the Atlantic, and first descents of rivers from Chile to China.
His expeditions have been supported by six grants from National Geographic's Expeditions Council.
Begun in 1999, Jon's OCEANS 8 project is a series of expeditions launched to explore the world's oceans from the seat of a sea kayak. Used as both transportation and as floating ambassadors, sea kayaks allow Bowermaster and his teams— comprised of some of the world's top photographers, filmmakers, scientists and navigators—to reach corners of the world rarely seen.
To see a full bio on Jon, go to http://jonbowermaster.com/pdf/jb.pdf
For more info on Jon Bowermaster go to: www.jonbowermaster.com
About our event:
Jon will present a slideshow about his Oceans 8 project. This will give you a unique opportunity to hear about his adventures sea-kayaking around the world from the adventurer himself.
These trips have taken him to the Aleutian Islands, Vietnam, French Polynesia, South America's
Altiplano and the wild coasts of Gabon, Croatia and Tasmania and the Antarctic Peninsula. The goal of each expedition was adventure crossed with an assessment of the health of the seas and the lives of the people who live and depend on them. Around the planet more than 4 billion people live within 35 miles of a coast and depend on the seas that surround. Meanwhile, impacts on marine ecosystems have compromised the relationship between the world's oceans and humanity. The OCEANS 8 project allowed for a unique exploration of this profound connection.
Besides his work for periodicals such as The New York Times and National Geographic, Jon has the following book and film credits:
Books
GOVERNOR,
University of Iowa Press, 1987
SAVING THE EARTH,
Alfred A. Knopf, 1990 (with Will Steger)
CROSSING ANTARCTICA,
Alfred A. Knopf, 1991 (with Will Steger)
THE ADVENTURES AND MISADVENTURES
OF PETER BEARD IN AFRICA,
Bulfinch Press, 1993

OVER THE TOP OF THE WORLD,
Scholastic Press, 1995 (with Will Steger)
BIRTHPLACE OF THE WINDS,
National Geographic Adventure Press, 2001
ALEUTIAN ADVENTURE,
National Geographic Society, 2001
ALONE AGAINST THE SEA,
Lyons Press, 2004
Films
Birthplace of the Winds (Aleutian Islands), 1999
The Dangerous Archipelago (French Polynesia), 2002
A Slowboat to Somewhere (French Polynesia), 2002
Into the Altiplano (Chile/Argentina/Bolivia), 2003
The Lost Coast of Gabon, 2004
Borderland (Croatia), 2005
Around Tasmania, 2006