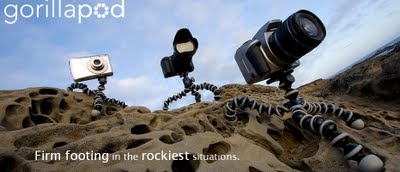 When it comes to getting great shots, the Gorillapod doesn't monkey around! It wraps around nearly anything and grips onto nearly any surface.
Unlike traditional tripods, the Gorillapod doesn't require an elevated flat surface for you to take the perfect shot
Compact and affordable, this tripod is the lightest one on the market!
Flexible joints help Gorillapod bend and rotate 360° to form the perfect shape
Ring and foot grips provide extra gripping power to most surfaces
Easy-to-use slim-line attachment stays connected to your camera; lock ring keeps your camera securely attached
Safely supports a compact camera weighing up to 11.7 oz.