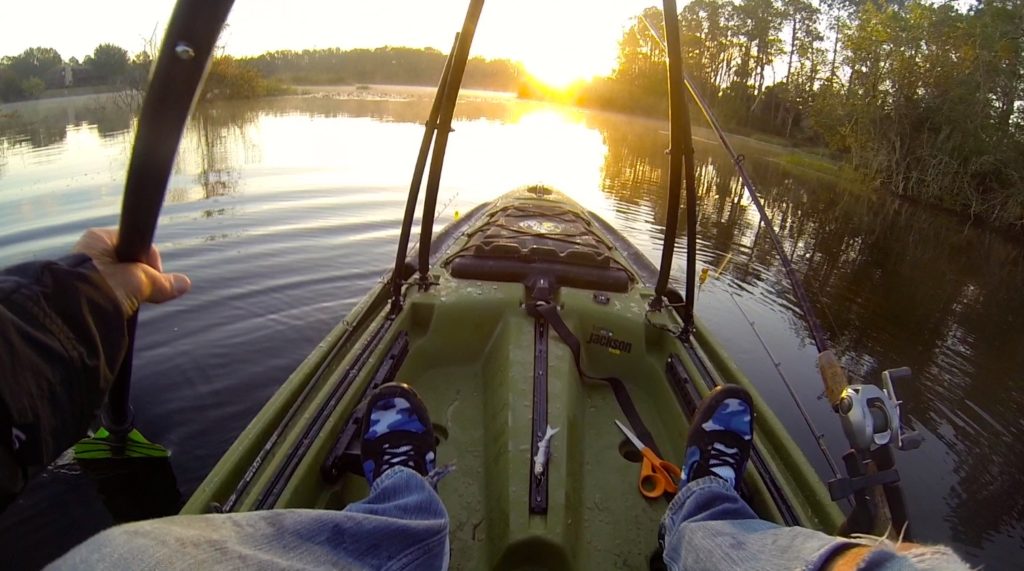 The Big Rig is one of Jackson's most stable kayaks yet – laden with all the core JK innovations and some NEW features developed to make this kayak the easiest to paddle and stand on.
References:
Web page:  http://jacksonkayak.com/jk-kayaks/kayak-fishing/big-rig/
YouTube Promo Video: https://www.youtube.com/watch?v=h2qf1Ham0fM
Designed to increase the 'standability' of kayak fishing, the Big Rig was built wider and with a new hull that increases both the size of the standing platform as well as the speed and tracking of a wider kayak.  Combined, this innovative new design allows for both an increase in stability for those not used to standing on a kayak and performance not normally seen in a kayak of this size.
The Big Rig also comes with the Jackson Kayak feature set that the market is used to including, its patented Hi/Lo Elite seat, storage areas, RAM rod mounts, and more.  In addition Jackson has added improved rod protection with new Rod Troughs, YakAttack tracks on most surfaces, scuppers adapted to fit the Raymarine Dragonfly fish finder transducer, Power-Pole Micro Anchor ready stern mounts, GoPro hot spots and more.
Drew Gregory, JK fishing guru notes "if you've ever uttered the words 'I'm not a kayaker and I'll never find a kayak that is stable enough to allow me to stand and fish' then you've spoken lies! Big Rig offers BIG stability and is the answer to those who have little or no paddling experience!"
"For me the Big Rig Stress Free Kayak Fishing, with the emphasis on Free!" comments Eric Jackson, President of Jackson Kayak.  "Freedom of movement of your feet when standing, of your rods when fishing, and of your body being able to get up, down, and move around without feeling unstable.  I am hooked!"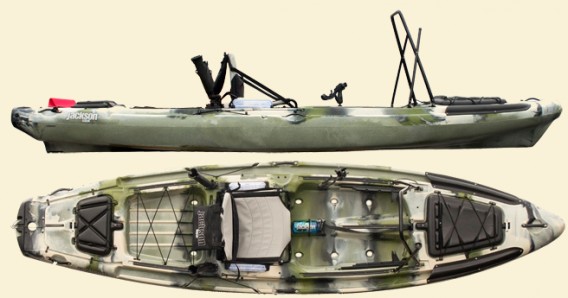 "The Big Rig is a culmination of what we've learned from all of our current fishing kayaks, team members, partners, and retailer and consumer feedback." states Damon Bungard, Jackson's Product Manager, "Seeing a product like this come together is truly rewarding, and the BIG smiles it's already generating never get old. Take the Rig for a ride and you'll see what I'm talking about."
"You're welcome!" adds lead designer, Tony Lee who has spearheaded some of the industry's most innovative hull designs to date.
About the Big Rig:
-Length 13′ 2″, Width 37", Weight 92 lbs (w/o seat)
-2 lockable hatches
-Stand assist strap AND bar standard
-3 RAM rod holder systems
-2 JK Plano StowAway Waterproof Tackle Boxes
-5 Yakattack tracks (front and behind seat)
-JK Nalgene Bottle
-Raymarine Dragonfly and Power-Pole Micro Anchor ready