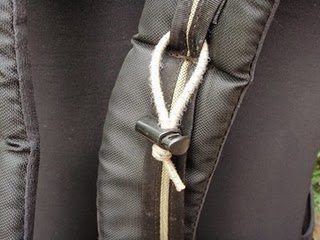 I've been asked a number of times how to attach an umbrella to a backpack. This allows your hands to be free for using trekking poles. Read on to see how simple this is:
1) Get 2 cordlocks and 2 pieces of bungee cord about 6 inches long.
2) Loop the bungee cord through webbing that is mounted on your shoulder strap. Do two bungees – about 3-6 inches apart.

3) Put both ends of the bungee cord through the cordlock and tie an overhand knot to keep the cordlock on.
4) Place the handle of your umbrella through the bungee cords.
5) Tighten the cords.
That's it! The umbrella rests on the top of the pack behind your head
and the cords control the umbrella in the front. This system got us through the entire Appalachian Trail and the entire Colorado Trail. We find that it works in almost any weather. If you have a strong crosswind, you may have to hold the handle with your hand and point the umbrella slightly into the wind. If you have any questions – just email me at john@packpaddle.com