Giving a Helle Knife is a gift your Dad will remember for a lifetime.  Built in Norway since 1932, every Helle knife is as beautiful as it is functional.
The triple laminated stainless steel blade holds a razor sharp edge longer than almost any knife.  This legendary blade is paired with a unique handle built from unique combinations of curly grained birch, leather and stag horn.
Eggen

The Eggen is one of our most used all-round outdoor knifes. It is a stout hunting knife with a drop point blade of triple laminated stainless steel. The substantial curly birch handle is shaped to form a finger guard. It is gives a solid feel in the hand and is comfortable for both medium and large hands.
Temagami
A wilderness knife. The semi-full tang provides the extra strength associated with bushcraft knives.
Hellefisk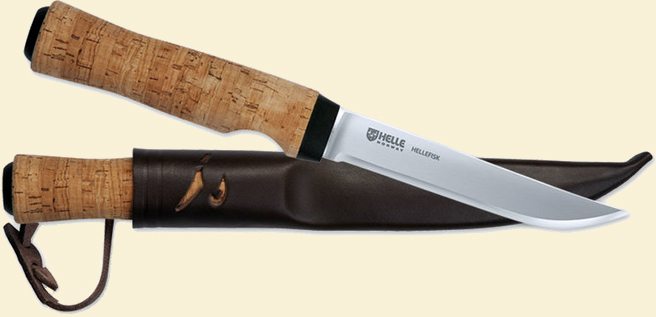 Hellefisk is a straight-forward fishing knife with a cork handle. The stainless blade of Sandvik 12C27 steel is thin and rather stiff. The traditional sheath hangs from a thong. The knife weighs less than 2 ounces and it floats if it is lost overboard.
Helle GT
Helle GT is a knife with a substantial guard. It is a big knife, but the lack of pommel and the use of aluminum for the guard keeps the weight down. It is an excellent choice for those who like a fairly big knife with a guard. The blade is made of triple laminated stainless steel. The knife comes with a snap type leather sheath.
Harding

The Harding is a traditional barrel handle hunting knife. The beautiful, warm handle is made from curly birch and darkened oak separated by layers of leather. It has a full length tang. The blade is made of razor sharp triple laminated stainless steel. It comes with an embossed leather sheath with a handle butt retainer. A knife you will treasure.