Saturday October 5, 2013 – Saturday October 5, 2013
Map and Directions | Register
Description:
Weather Change!!!!  Due to the Tropical Storm.  New trip and meeting location and time.
Meet at the Burger King on Ambassador Caffery just south of I-10.  We will meet at 5:30am.
Trip Location will be Prien Lake in Lake Charles.

Old Details:
Meeting Details: Meet at the Albertson's in Broussard at 4:30am
Price: Free!
Price Includes: This is a FREE group trip. All participants must provide their own kayak, pfd, paddle and fishing gear. Nothing is included other than the company of other kayak fishermen! Launch fee is around $2-$3 per boat. Participants are all responsible to pay their launch fee to the marina at the time of launch.
Required Items: Kayak, anchor, paddle, pfd, fishing gear, lures or bait.
Optional Items: Sunscreen, bug repellant, sunglasses, wide brim hat.
This free trip is intended to give a great fishing opportunity for those who have their own kayak and want to discover a new place to fish with others who have been there before.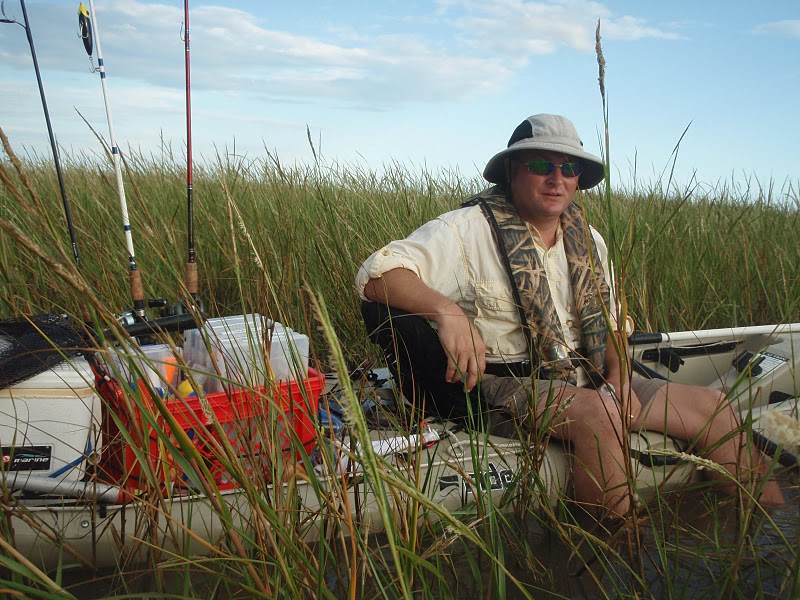 Members of the Lafayette Kayak Fishing Club will be along on the trip to help out if you need it.
We'll meet at 4:30am at Alberstons in Broussard. From there, we'll carpool to the Pointe Aux Chenes marina south of Houma. This area is the perfect kayak fishing destination featuring shallow marshes with sight fishing for reds, deeper water areas for trout and great scenic beauty. The best part is it's only a few paddle strokes from the launch. We expect to launch by 7am and fish until around 3pm. Here's some more details about Pointe Aux Chenes and this trip:
Location/General Area Description: Pointe Aux Chenes WMA is a wonderful saltwater marsh south of Houma, LA. Our launch is going to be the Point Aux Chenes Marina at the very end of Hwy 665.
Cost: Launch fee is around $2-$3 per boat. Participants are all responsible to pay their launch fee to the marina at the time of launch.
Launch Type: Concrete Power Boat Ramp. The store at the Marina usually has dead shrimp, cokes, snacks, ice etc…
Overview: Pointe Aux Chenes offers mostly classic marsh fishing for Trout, Reds and Flounder. It's a great place to find big reds and in certain time periods (the fall and spring transitions), really good trout fishing. There is good trout and redfishing just a few paddle strokes south of the marina in the open water and the marsh along the main cut that runs south. To the north and west of the marina you will find miles of broken marsh and shorelines to fish.
Fish northward towards Isle of Jean Charles Rd. Keep your eyes peeled for movement along the banks that indicate the reds that live there. You can also fish north and east of the Marina. A great thing about fishing here is that you can keep track of where you are by keeping an eye on the road and the telephone poles that line 665. It does get shallow and you may want to carry a GPS if you plan on really exploring this area.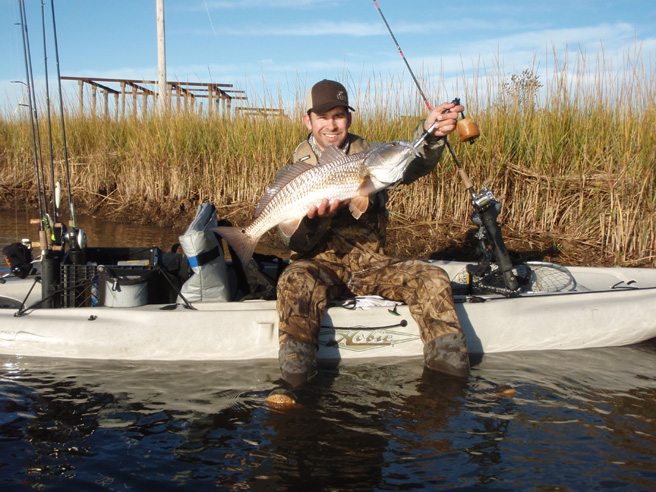 How to fish Pointe Aux Chenes: Fish plastics with and without a cork along the banks and in open water. Spinnerbaits are great in this area as well. Don't be afraid to throw topwaters most of the year. The redfish and trout are very aggressive and love to hit topwaters thrown into drains and trenasses and along grassy shorelines. Of course live and dead bait work well also.
What to Watch For: Watch out for heavy winds – although you can usually find protection and clear water somewhere in the marsh. Dress appropriately, always wear your PFD.
Guide: John Williams
Guide Details: John Williams is an avid kayak fishing enthusiast. He enjoys all types of kayak fishing, but especially loves going deep into the marsh for Redfish. John has been successful in kayak fishing tournaments including winning the CCA Star Southwest Kayak division, the Spec N Red Cup, The Mardi Gras Madness Kayak Tournament as well as winning the LKFC Angler of the Year in 2010.
Directions:
Take Hwy 90 south to Houma
Take the exit toward LA-316/Bayou Blue Rd Go 0.6 mi
Turn right at LA-316/Bayou Blue Rd Go 12.7 mi
Turn right at LA-316/Company Canal Rd Go 1.3 mi
Turn left at LA-24 E Go 1.2 mi
Continue onto Straight onto LA-55/Montegut Rd Go 4.2 mi
Turn left at LA-665 S/Pointe Aux Chenes Rd
Take 665 south all the way to the end at Point Aux Chenes Marina.
Registration:
This is a free trip – but you MUST register below.