We get lots of questions about the best ways to mount a GoPro camera to a kayak.  It's really very simple now that there are some key products on the market.  The first thing to do is to decide what kind of shot you would like to get.  There's two major shots that work well in a kayak: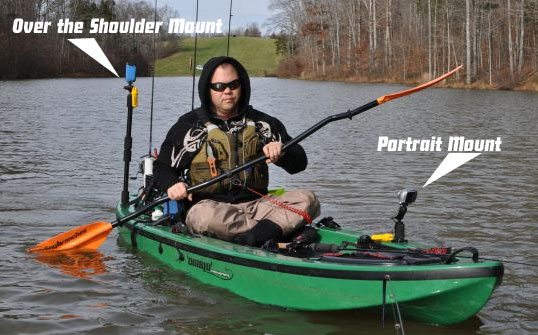 The over the shoulder shot is great because it shows you paddling plus the scenery you are looking at.  If you're like me – you may not love seeing yourself in the camera shot.  This mounting position solves that problem (unless you don't like seeing your back either!).
For the Over the Shoulder shot – go with either a Yak Attack Pan Fish mount or the Greenfish mount.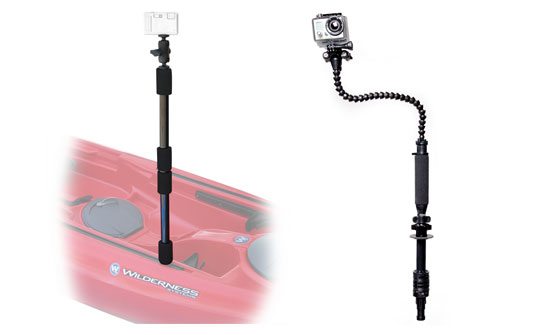 The PanFish (above left) can attach easily into the existing tracks on many sit-on-top kayaks.  Or simply add a Yak-Attack Gear Track or Mighty mount and your PanFish will hook onto your kayak in seconds without any tools.  The curvily designed Greenfish mount can either hook into a Scotty mount on your boat or you can slip it into a flush mount rod holder.  Bend the arm to the exact angle that you want and you're ready to shoot!
For the portrait mount – the easiest solution is the Yak Attack Panfish Portrait.  Another option would be to mount the Greenfish mount on the front and bend the arm for an interesting angle.  The Panfish Portrait will mount to factory installed gear tracks or mount the Yak-Attack Gear Track or Mighty mount and just like the Panfish, you can mount and un-mount your Panfish portrait in seconds without tools.