In Stock Now:  The GoPro HD Hero 2!
More and more people are enjoying getting out, playing in the outdoors with a GoPro camera mounted on their kayak, mountain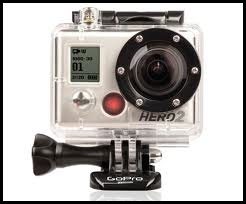 bike, trekking pole or on their head.  Then they head home build awesomely cool videos of their day in the woods or on the water.  Whether you want to share with your friends what it's like to fight a big redfish in a kayak, hike down your favorite trail or launch your body off that jump you've been wanting the make – the GoPro camera can do the job.  It's easy to mount on almost anything, is waterproof and super-rugged.  The only limit is your adventures and your creativity!
[youtube]http://www.youtube.com/watch?v=GUEZCxBcM78[/youtube]
From the GoPro site:
GoPro cameras are used by more professional athletes, sports filmmakers and core enthusiasts than any other camera in the world. The HD HERO2: Outdoor Edition is the most advanced GoPro camera yet. Wearable and gear mountable, waterproof to 197′ (60m), capable of capturing professional full 170º wide angle 1080p video and 11 megapixel photos at a rate of 10 photos per second, the HD HERO2 is the world's most versatile camera. Whether your goal is to capture a great day out with friends or you're gunning for the cover of a magazine, the HD HERO2: Outdoor Edition can help you nail it and look like a HERO.