There's nothing like ninety degree temps and ninety percent humidity to make you want to stay inside and binge watch your favorite TV show. Before you start popping the popcorn, consider making memories with friends and family on one of these great outdoor hikes or paddle trips – all within a couple hours of Lafayette.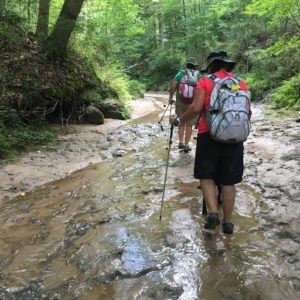 Clark Creek Natural Area
This is the go-to spot for summer hiking. Imagine walking along creek beds towards delicate 30 foot waterfalls. From the parking area, the trail takes you downhill to the creek bottoms. Branch off the main trail to reach these unique waterfalls that are perfect for cooling off from the summer heat. Wear cool clothing that will dry quickly along with sturdy shoes that can drain easily as you go in and out of the water. This incredible spot is a 2 hour drive located north of St. Francisville.
https://packpaddle.com/where-to-go/hiking-backpacking/clark-creek-natural-area/
The Forks of Catahoula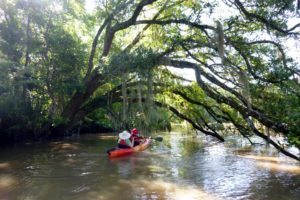 For a perfect 3 mile paddle trip, head to the small cajun town of Catahoula. Put in at the public boat launch right across from the ball fields. From the launch you will paddle calm quiet waters past high ridges carved eons ago when the Mississippi river flowed through the area. These ridges host some of the few stately live oaks that you'll find in the Atchafalaya basin area. Because of the short length of this paddle trip, you can head out late on a Sunday afternoon, put in around 5 or 6pm – paddle a few hours and head back to Lafayette!
https://packpaddle.com/where-to-go/paddling/the-forks-catahoula-paddle/
Bayou Vermilion
Don't forget about our most accessible waterway: The Bayou Vermilion runs right through town and has kayak launches at the following locations: The Nature Station, Vermilionville, Camellia Bridge and Southside park. Add in boat launches at Rotary point and Beaver Park and there's a myriad of possible early morning or late evening paddling opportunities – only minutes from the house.
http://www.bayouvermiliondistrict.org/bayou-vermilion-district/recreation/canoe-kayak-launches.html
Kayak Fishing Choupique Bayou
It's still too early to head to Cypremort Point but fear not – Choupique Bayou is a great summer destination to catch redfish. The thing that makes Choupique a good summer destination is that you can begin fishing only a few hundred yards from the launch. Head east towards the intracoastal canal and fish the shorelines carefully with top waters, plastic cocahoes, or shrimp under a cork. Start early and finish early for the most comfortable fishing and the best results. This area is located just south of Sulphur, LA.
https://packpaddle.com/where-to-go/kayak-fishing/choupique-bayou/
Follow these easy tips for a safer and more comfortable adventure:
Stay hydrated (with water – not beer!)
Keep the bulk of your activities before 11am or after 5pm
Plan a route that's short enough to allow for plenty of rest breaks.
Wear cool, light clothing, sun hat and sun glasses.
Very young, old or out of shape people should be extra careful of the heat.
We hope you will hydrate up, get out of the house and try some of these great locations, even through our summer heat!