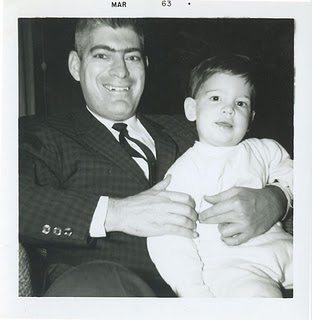 With Fathers Day approaching quickly, I thought this would be a good time to give you a view into my dad and a few of my memories and stories from growing up. I apologize in advance to my Dad who I am sure doesn't want me writing this. You see, he was never one to want to take the spotlight. But looking back through my 47 years, I can see how much his gentle guiding hand has affected my personality and my life.
Known to most folks simply as "Doc" (he was a childrens dentist in our pre – Pack & Paddle days). Many of my earliest memories with my dad involve the camp our family used to have on the levee near Fausse Point state park. In those days, my dad had a serious fishing fever – and my two brothers and I would often accompany him on his many trips into the basin in search of fish. I can remember always getting to the landing in total darkness. We would launch the boat and my dad would take off at mach speeds down canals that I wondered how he could see down in the inky black. The ride always seemed cold and long, so we would climb underneath the pull-over boat he had tied across the gunwhales of his motorboat to try to get out of the wind. Once, we arrived at our fishing spot in the dark and my brother caught a "fish". When he pulled it out of the water – a big snake was hanging on the hook. That
line got cut.
I can remember my dad at some point in the trip always taking me to fish between these 2 certain trees in Buffalo Cove that we had caught fish at once. I'm not sure if we ever caught fish there again, but he would take me there to give it a try every time. Our diet in those days was "interesting". We would eat honey buns for breakfast followed by Ritz crackers with cheese out of a can for a snack. After that, we would have Vienna Sausages for lunch. One of my favorite memories of our camp happened when we were on our way driving out to the camp through St. Martinville. My dad pulled over to (I think) a hardware store. I got out with him, not knowing what we were stopping there for. He walked in and bought me a BB gun. It was one of the greatest moments of my boyhood.
It seems as though we always caught fish in those days. One thing that I could never understand about my dad was that when we would get back to the landing and someone would ask if we caught fish, I would be bursting to pull open the ice chest and say we caught a ton of fish, but my dad would always say "We caught a few" and leave the ice chest shut. I always thought he was trying to be humble. Now I wonder whether he was just trying to keep his fishing holes secret.
Another memory I have of my dad is his love of football. Many Sunday afternoons were spent watching teams like the Colts and Dolphins. I can still remember loving my toy Colts helmet with the blue horseshoe on the side – pretending I was Johnny Unitas. When we started a neighborhood team (not exactly sure who we were going to play against), my Dad got us "jerseys" for Christmas. In high school when our team played in the Superdome for the playoffs,
my parents and grandparents wore "Tiger Ma and Tiger Pa" shirts.
As Pack & Paddle grew, my dad scaled back his dental practice to help out with the family business. Everyone would say that my mom would come up with some crazy idea and my dad would figure out how to make it happen. Some of these ideas included building a ski machine, remodeling the shop many different times, making our own wooden mannequins, adding on to the building 3 times and much more. One of my favorite stories is that when the big addition that currently holds our boat room was under construction, we had a thunderstorm blow through late one afternoon. We all heard a crash and ran outside to look. The entire addition was blown over and was sitting in the parking lot in a huge heap. My dad walked over and looked at it. He shook his
head and said "I think I'll go down to the store and get some beer".
People that know my dad love him for his gentle spirit and wry sense of humor. He embodies that old school graciousness that I fear our society is losing these days. The way that he put his busy dental practice on the back burner to help chase the Pack & Paddle dream amazes me. He went from spending weekends in the basin to swinging a hammer and turning a wrench. He embodies humility, always making the other person in the conversation feel important. He knew how to work hard – and passed that along to all of us kids. He taught us all how to support your spouse in their personal growth and dreams. He instilled in all of us what it is to be a true outdoorsman and adventurer. If all of this isn't what being a dad is all about – I don't know what is.
Happy Fathers Day Dad! We appreciate you and love you!
End Note: Many people ask me how my mom and dad are now. They are doing well – still riding their bikes and staying active. My dad took us out a while back in his boat to check out a spot in the basin for a canoe trip. This brought back many memories. He just bought a membership in a fishing club – so he'll be passing his love of fishing on to the grand kids.