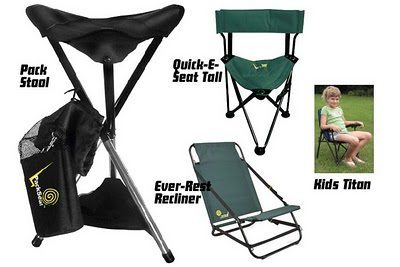 Come by to see our great selection of chairs that are perfect for this spring's festivals or for your next camping trip.
Here are a few models:
PackSeat
The PackSeat weighs in at only 26 ounces. Lighter than all of it's competition, the PackSeat folds into a small package with our innovative designed shock-corded legs. The carrying sack always stays attached so you don't have to worry about finding the bag to take it on your next trip.
Quick E Seat
From following your favorite golfer to camping, hunting, and fishing, the Quik-E-Seat Tall offers ultimate in comfort. Its unique patented carrying strap closes this lightweight chair automatically, and with new 20″ tall legs everyone can enjoy this portable seat!
Ever-Rest Chair
Its ability to adjust to hillsides as well as flat grounds makes the EveRest Recliner unique. Its backrest is not only rigid but also adjustable to unlimited comfort zones. To cap it all off, the EveRest Recliner™ has a patented auto-fold system that makes this comfort wonder easy to fold and transport!
Kids Titan Chair
This is the best kids chair we've found! Light, easy to set up and comes in its own carry bag.