As we drove through Houma towards the put in for our P&P Staff fishing trip, I kept commenting on all the flags hanging limply along the highway.  Low wind!  Perfect for a "first experience" fishing the coastal marsh.  We were
treated to calm, clear weather.  Maybe too calm.  When we arrived at Pointe Aux Chenes, the welcoming committee of gnats were waiting to give us a warm greeting.
First order of business:  Put on headnets, buffs, gloves and long pants.  Next, we spent some time teaching the girls how to cast a spinning rod.  Both Susi and Jillian – the staff members that Eli and I were guiding had never used a spinning rod before.  It's surprising how complex something like a spinning reel is to someone new to fishing.  Especially when the
gnats are at epic levels.  Our trainees persisted and soon we were launching the boats.
It was decided that Jillian would take the Hobie Outback and fish with Eli while Susi would be in the front of the Pro Angler 17 tandem fishing kayak with me.  I have only used this kayak at demos and was excited to see how it would be to fish out of this boat.
We started out circling a large marsh island.  I was seeing fish, but we were having no bites.  So I started trying different lures.  Nothing was working until I tried a trick our friend Joey Branton told me about.  I put a Fishbites Fish n' Strip onto a gold spoon and within a few casts I caught a redfish.
I switched this lure over to Susi's rod and she continued casting out of the front of the Pro Angler 17.  A note about the kayak:  While it looks like a huge beast on the showroom floor of the shop, I was VERY IMPRESSED with how easy it was to put Susi in position to make casts to the correct areas with this boat.  We pulled her pedal drive out and I basically acted as the human trolling motor.
Less than 1 hour from launching – and not even knowing how to cast a spinning rod – Susi got to experience the thrill of a large redfish hitting her line.  She had cast towards the shore and was reeling when I heard the signature popping/sucking strike that only a big redfish makes.  It was a second before I realized that this red had hit Susi's spoon.
[youtube]https://youtu.be/gmTl78Bn04k[/youtube]
The mixture of shock and excitement as the fish almost pulled the rod out of her hands was priceless.  The redfish proceeded to tow us 100 yards out to open water.  With 2 people in a Pro Angler 17!!!  Within a few minutes we had the fish in the net and were high fiving for Susi's first fish.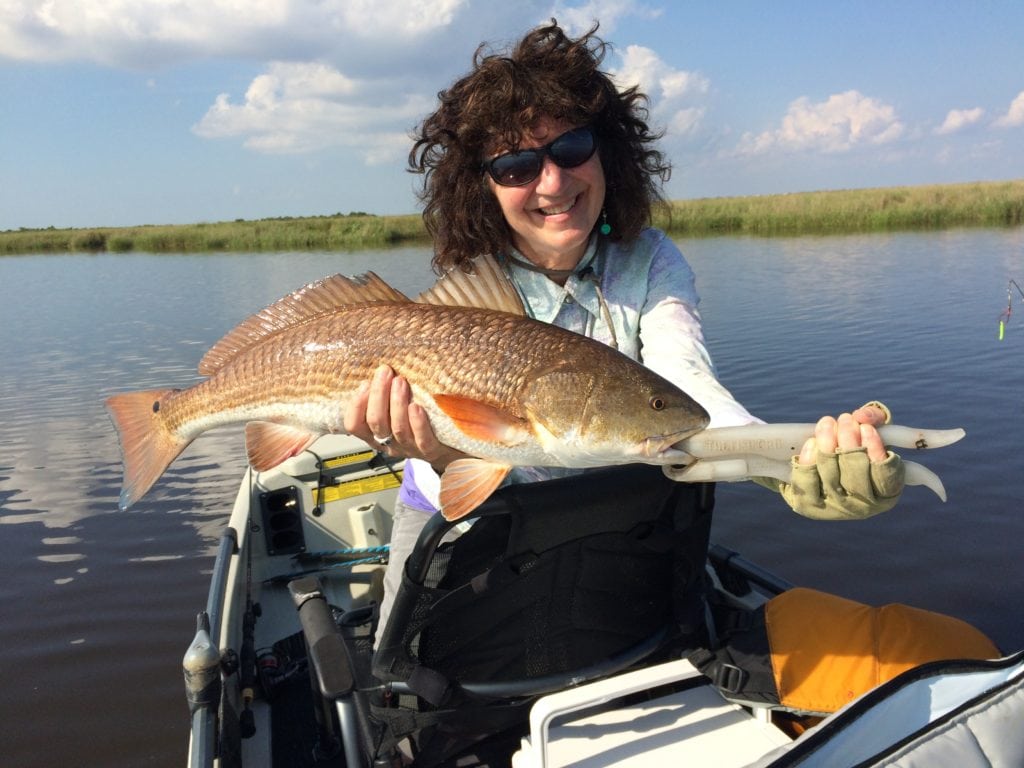 Jillian and Eli circled the island the other direction.  As we approached them, I saw Jillian hook a redfish on the topwater lure she was fishing.  The fish shook the lure loose during the fight – which seemed to suit Jillian perfectly.  Eli caught a couple of reds sight casting and lost a few as well.
There is nothing quite as fun as seeing someone catch their first redfish out of a kayak.  It was a joy to watch Susi and Jillian discover the combination of beauty and excitement of fishing the coastal marshes.  Between the adversity of the gnats, the excitement of catching big fish from a small boat, and the companionship of friends doing something fun outside, we shared an experience that will be remembered for a long time to come.
I can't wait till next time!