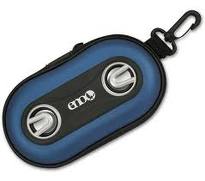 Music to GO
Pack you tunes when camping, hiking, biking and more. The Hi-Fi Speaker Case from ENO allows you to share your music with others on the go.
The durable molded and sewn case protects your music player from moisture and impacts
while traveling.
Powered by two AA batteries, Hi-Fi can deliver great sound for hours. Compatible with iPod and most portable music players.