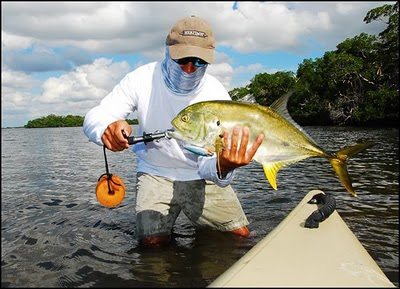 Buff UV Protection Sun Masks should be on your wish list because it:
1) let's you skip sun screen
2) lets you see more fish
3) feels comfortable even when worn all day
If you spend all everyday out on the water you have to protect even your face from getting burned. By covering the last remaining skin you can also skip sun screen lotion. No smelly stuff on your wonderful bait any more. (we assume that you already wear sun-protection clothing and only have the face left to cover)
How can you see more fish with a face mask?
You need polarized sunnies to see what's in the water. Our white skin destroys a chunk of this effect by reflecting the sun to the back of the sunnies. By closing the gap between sunnies and skin you experience the true potential of polarization.
The Buff as a tube fits snug over your glasses and covers this gap.
What a Catch!Wind protection is not that obvious but probably the most important bit. Ever wondered why you feel so drained at the end of a great fishing day? It's the wind that puts a strain on your entire body and virtually sucks your energy away.
Buff as a face mask and a cap prevent this energy drain. You don't have to hide in the wind shade. You can stand tall on the bow or on the cliff and return home with lot's more energy left. For a pro being more focused for a longer time simply results in better catch.
For you it offers a nice advantage over your mates. Guess who has the last laugh at the end of the day. The drained, tyred one or the smiling energetic fisho that has more than one great story to talk and laugh about. I hope this gives you a bit of the drift.
I don't need comfort – I'm tough
Sure. That's why you don't mind something in your face that itches, smells and makes you sweat.
The textile engineer behind Buff realised two decades ago that it is comfort that makes our day. No matter how tough we are: Nothing beats feeling good while doing what we love most.
A Buff is guaranteed itch free for the lifetime of the fabric and almost always feels good in any weather.
Because it is the only tube only the market that comes with a guaranteed UV blockage of 95%.
100% Money Back – Guaranteed
The feedback is so overwhelming positive from fishing professionals that we are happy to give you a 100% money back guarantee if not satisfied. We even provide you with a paid return envelope to make it as easy as possible (just ask for it). In 7 years of trading 6 came back. 5 looked as if the dog had chewed on it.