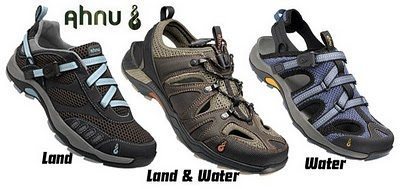 We're excited to introduce the new spring line of all-terrain shoes to Lafayette. Ahnu specializes in shoes that are functional for a variety of uses. As our graphic above shows, Ahnu builds shoes for land, water and combination use. Read on about each model:
Ahnu Tamalpais II (Left – Land)
This versatile, light weight multi-sport shoe offers breathability, cushioning, support and traction for light hiking, trail running or walking through your neighborhood.
Ahnu Jenner (Center – Land & Water)
Built to take on the rigors of hiking and rugged terrain, the Jenner is the "jeep" of the sport sandal world, providing protection, traction and durability for all off road activity.
Ahnu Tilden (Right – Water)
A lightweight, versatile multi-sport sandal suitable for a variety of outdoor activities on trails, in water or on the sidewalk.