Pack & Paddle is proud to participate for the 5th year in a row in the "Cinema on the Bayou" film festival.  This home-grown celebration of film and Louisiana is always a treat for us to be a part of.
Price: Free Event!
Meeting Time and Place: Meet at Pack & Paddle on Jan 26th at 6pm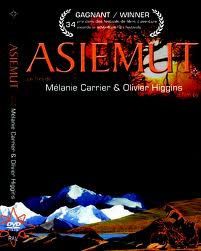 Pack & Paddle Review:
Our first film for P&P Movie Night is called Asiemut. This curiously titled film features a French Canadian couple that sets out for their first bicycle tour. They film themselves as they cycle across Mongolia, China, Tibet and India. There's so much I would like to share with you about this film. Rather than this being a bike touring film, I found it to be an amazing tale of two people who discover their own limits as well as the beauty of cultures that are so different from our own. They don't hold anything back in showing their struggles and the ways in which they deal with the adversity.  The honesty in which the story is told left me riveted to my chair.  This movie moved me. I can't wait to share it with you!
By John Williams
Meet the Film Makers!
Olivier and Melanie will be making the long trip down from Canada for this film plus the premiere of their newest film at the LITE center on Friday night.  Please come out to meet these amazing real-world adventurers and welcome them to Lafayette and Pack and Paddle!  Olivier and Melanie will introduce the film as well as answer questions afterwards.
Producers Description:
There are so many choices in everyday life! Everyone has their own journey, their own direction, their own azimuth. Oliver Higgins and Melanie Carrier chose a journey – though most would call it a long adventure – approximately 8,000 kilometers long, riding their bicycles and pedaling through Asia. Olivier and Melanie traveled from Mongolia to Kolkata, at the mouth of the Ganges in India, passing through Xinjiang, the Taklamakan Desert, Tibet and Nepal. Along the way, they discover the world, but over all, they discover themselves. Who are they? What do they want? What is their place in this world? Maybe, between the encounters, obstacles, and discovery, this daring journey made them reflex… Do we not all have a common "Asiemut"?
Bicycling to Promote Thought
Asiemut, winner of the Public Grand Prize at the Banff Mountain Film Festival in 2006 is a film that will take viewers on a journey across Mongolia, China, Tibet, and India as seen through the eyes of two dedicated bicyclist/filmmakers, Melanie Carrier and Olivier Higgins. Using unique on-bike camera techniques and raw, emotional footage, the filmmakers invite viewers to travel with them, to live out their adventure, to share their thoughts and values, and to hopefully take stock in their own society and, more precisely, their role in it.
Asiemut, however, is not a moral lesson, but rather a tool to raise moral awareness. Carrier and Higgins hope to remind us, the viewers, of the social empowerment we have as citizens of the world, and that each and every one of us has the potential to make our planet and future a reflection of our own values.
What's in a Title?
The title of the film is a combination of the root words, azimuth, and its relation to the direction one takes on a compass, and Asia, the region in which the duo was traveling. In naming their project as such, they aimed to give their project direction and to share their personal adventure, values, and passion for life.
The Music and the Message
The DVD includes the English and French versions of the film and some bonus video, as well as bonus interviews with people they met, photos, and a map of their route. Also especially integral to the mood and theme of the film is the music that helps to transport the viewer into the remote cultures the filmmakers visited. It includes twelve selections, such as the famous Tibetan song "Shiva Moon" from Prem Joshua, "Eulogy" of Chinggis Khaan, and more.
Awards
Asiemut has been commended around the world, having numerous awards bestowed upon it. From international to city-specific film festivals, critics and festival-goers alike are raving about this film, and the list of festivals at which the film has won awards is proof.
Grand Prize- Best Film, Vancouver International Mountain Film Festival
Grand Prize- Best Film, Fort William Mountain Film Festival
Best Film on Mountain Sport, Flagstaff Mountain Film Festival
Most Inspiring Film Prize, Boulder Adventure Film Festival
Festival Grand Prize, Teplice Mountain Film Festival 2007, Tcheck Rep.
Public Grand Prize, Festival International du Film Des Diablerets, Suisse
Best Adventure Film, InkaFest Perù
Best Adventure Film, Squamish International Mountain Film festival
Most Inspiring Film Prize, Boulder Adventure Film Festival
Public Choice Award, Wanaka Mountain Film Festival
Grand Prize-Best Film, Mountain Film Festival of Slovakia
People Choice Award, BANFF International Mountain Film Festival
Special Jury Award, BANFF International Mountain Film Festival
Special Jury Award, International Adventure Film Festival of Dijon