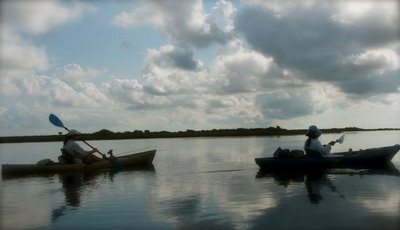 The new year is always a time to look forward to things to come. But it's also a time to look back and reminisce about things past. I find myself particularly nostalgic for the year that was 2008. Over the last year, we've seen the Outdoor Community of Lafayette grow. Lots of new folks are paddling, kayak fishing and hiking. Others are noticing as well. Lafayette (and Pack & Paddle) was mentioned in National Geographic Adventure Magazine as a "50 Best Places to
Live for Outdoors" in the country! We have enjoyed being part of this movement. Read on for some of the highlights of the past year.
If you're not into reading and would like to see a montage of photos from trips and events, Click Here.
Watching students to make their very own alcohol stoves out of
beer cans and then going outside and lightning them in the parking lot was a lot of fun. I sharpened my skills by attending our outdoor photography class. The Valentines Romance Paddle was an incredible evening that Becky and I hosted with our son and daughter in law Matt and Rebecca. Wow! What an evening! Other standout events early in the year were our Grand Isle Kayak Fishing Expedition, our Namaste Waterfall Day hike, and Michael Pears teaching Kayak Fishing the Marshes of South Louisiana. Early in the year we also were a venue for the Cinema on the Bayou film festival. The evening with Christina Melton introducing the "Atchafalaya Houseboat" film was particularly memorable.
Early summer found us paddling Buffalo Cove on a memorable high water day, paddling the Virgin Cypress for the first time on a picture perfect late spring afternoon and heading to South Texas for an incredible kayak fishing adventure. Our community screening of "The Real Dirt on Farmer John" co-hosted with Earthshare Gardens was a highlight. Ken Waldman – the Alaskan Fiddling Poet put on a great show for our first ever musical evening at P&P. Captain Danny Wray from Grand Isle captured the kayak fishing community with a great talk on tackle and strategies when fishing from a kayak.
As late summer came and fall began, we had a great kids hike at Fausse Point highlighted with playing in the fountains. One great memory for me was at our kayak fishing trip to Grand Isle, seeing Dan Selph catch a HUGE redfish from the seat of his kayak. During this time, Becky and I were gone for almost two months. The first part of the trip was a trade show. The second part was a 37 day hike of the Colorado Trail. While we were gone, Lafayette hosted 2 near misses on hurricanes. Our Bio-Fuel night was an
amazing success with Tim Metcalf and a great film highlighting the night.
Fall brought a wonderful art film called "Rivers and Tides" that got a lot of response from the outdoor community. Author Pete Cooper came to the P&P venue and talked fishing to a rapt crowd that hung on every word (especially me!). We hosted Dean Wilson – the Atchafalaya Basinkeeper for a wonderful program on some of the environmental problems in the Basin.
In addition to all of the events listed above, we had many great Howl at the Moon evenings at Lake Martin, Kayaking and Canoeing 101 classes, Waterfall hikes, Backbone hikes, Indian Bayou birding hikes and paddle trips, Chicot hikes and paddle trips, backpacking clinics, demo days, food drying clinics and canoe camping seminars.
WHEW!!! If you are still reading – thank you! This was a totally amazing year. We have enjoyed sharing time with you and look forward to some incredible adventures in 2009.