Hiking Blind – An evening with Trevor Thomas
Date: Thursday, November 3rd
Meeting Details: Pack & Paddle at 6pm
Cost: Free Event
Have you ever wondered what it would be like to venture out and hike one of Americas long trails? Imagine hiking one of these trails as a blind person – with only your courage, your inventiveness and your dog to help you through it.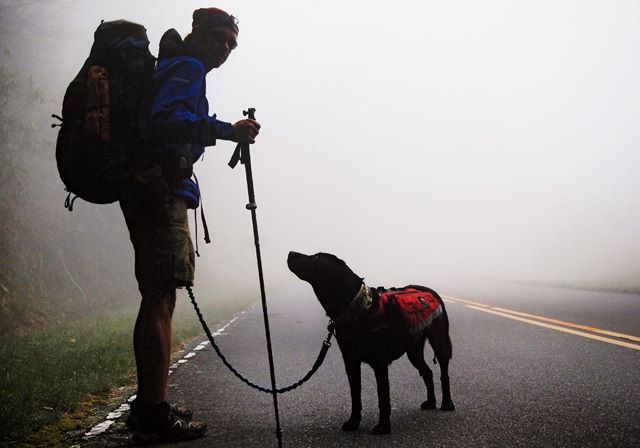 Pack & Paddle is proud to present Trevor Thomas – blind hiker and veteran of over 20,000 miles of North America's most difficult and demanding long trails to Lafayette for two very special nights here in Lafayette.
Thursday's event will be a talk and slide show about his most recent expedition, the first solo thru hike of The Colorado Trail by a blind person. This trek was his most challenging to date and Trevor will share with you stories of his adventure.
His journey was one of perseverance. From his failed first attempt of the Colorado Trail, Thomas spent 4 years preparing for a second chance. This preparation included many long distance hikes through which he invented a new way for a blind person to navigate in the backcountry.  Join in welcoming Trevor to Lafayette on Thursday for this special presentation.  Also – Listen for  Trevor's interview on KRVS with Judith Meriwether Thursday afternoon just before the presentation.

About Trevor Thomas:
Since losing his sight in 2006, Trevor Thomas has hiked more miles, completed more thru hikes, summited more mountains, and spent more time in the backcountry than any other blind person in history.
Thomas has been interviewed extensively in newspapers and television, been featured in magazines and documentaries, and recently he has been named one of the hundred most influential and inspirational trailblazing pioneers in the backcountry by Blue Ridge Outdoors Magazine.
We are so fortunate to have Trevor here not only to speak about his journey from Denver to Durango on the Colorado Trail but also as a representative of his foundation TeamFarsight. TeamFarsight's mission is to empower blind and visually impaired young adults by developing partnerships between service organizations and the blind community. He is hoping to set up his Blind Ambassadors program in association with Affiliated Blind here in Lafayette.
Support Trevor on Friday at Pint Night:  
Please come Thursday night for Trevors talk – and we invite you back on Friday night for our annual Pint night. All proceeds from Friday's Pint Night this year will be donated to Team FarSight.