Footwear
Our footwear department is chock full of great shoes for all types of adventures.  Whether it's trail running, hiking, travel, watersports, or just casual wear around town, we've got you covered.  Here's a few pictures of our footwear department: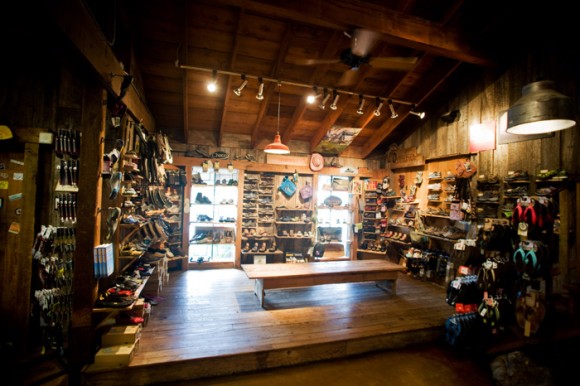 Shop these great brands at Pack & Paddle:
Birkenstock
Birkenstock strives to be authentic and naturally eco-friendly, not eco-chic. They didn't just jump on the green bandwagon; they actually have a history of being a company with a conscience. Today, Birkenstock USA has enjoyed enormous success and continues to grow with many different styles of sandals and shoes.
Chaco
Chaco is dedicated to being a pure connection to a lifetime of adventure. We live in a world that makes faddish, non-recyclable and non-repairable products. In short, we make garbage. Since 1989, Chaco products have been pioneering durability and simplicity. Chaco creates a product that can be repaired rather than pitched into a landfill. Check out the sandals and shoes made by Chaco.
Cushe
Cushe®, (pronounced 'Cushy') was born in the summer of 2004. A brand conceived by a group of footwear designers and enthusiasts, they are an independently thinking, design led footwear brand, based in the UK, offering unique and exciting footwear choices for a dynamic, inspired and confident generation.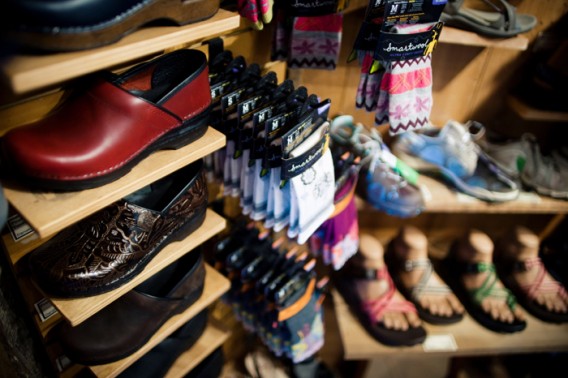 Dansko
Dansko sells more than just the original clogs, but also heels, boots, sandals, wedges and flats . Every style features the Dansko DNA- materials and construction carefully selected to promote good foot, leg and back health.
Hoka One One
Hoka One One has engineered a unique performance midsole geometry that features a higher volume, softer density, and greater rebounding foam than standard running shoes. Along with maximal cushioning, this provides runners of all types with an energizing, stable ride.
Keen
Keen manufactures hybrid outdoor and casual products, including footwear, bags and socks. Founded in 2003 with the launch of the Newport sandal known for its patented toe protection technology, Keen creates innovative and comfortable products that transition seamlessly from work to play, and enables people to pursue a Hybrid lifestyle: create, play and care.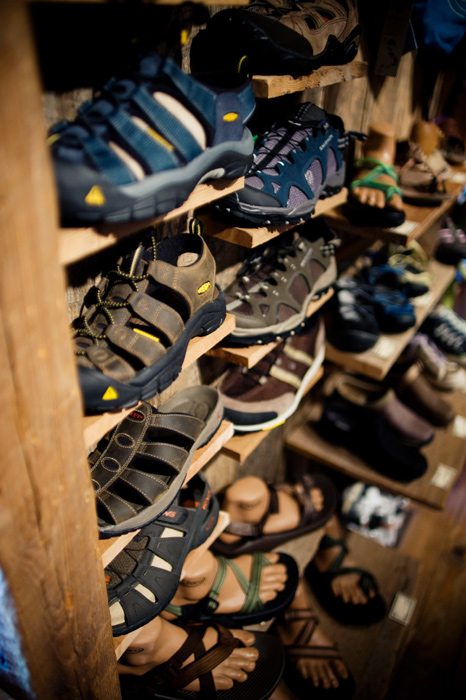 Merrell
Merrell produces high quality shoes and clothing to support people getting outdoors. Shoes range from heavy-duty hiking boots to their new "barefoot shoe" innovation.  Come check out our selection of Merrell shoes that cover a wide range of activities.
Oboz
Founded on the idea that everything Oboz does (from shoe technology to conservation projects) should be true to the trail, the company has been thriving since 2007. Everything goes back to the trail. When Oboz adds a new technology feature to a shoe, it's for one reason: to help people better tackle their trail, be it a lunch hike, backpacking trip, crag approach, or off-trail adventure.
OluKai
Behind OluKai's premium leathers and rugged synthetics is quality manufacturing. They build all our footwear on true-to-fit lasts so they'll conform to your feet right out of the box. The anatomical footbed is the heart of every pair. With its biomechanically correct shape, it supports and positions your entire foot naturally, allowing you to move through your stride comfortably and correctly.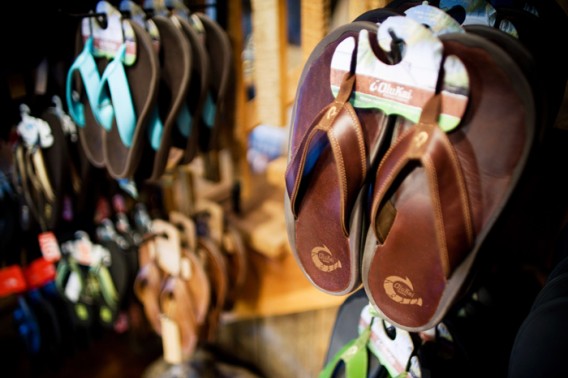 Sanuk
Sanuk provides creatively inspired yet distinctively designed footwear products for the global outdoor community. Taking its name from the Thai word for Fun, Sanuk is a global lifestyle brand known for its funky sense of style, lo-fi innovation, and delightfully irreverent humor.
Sole
The benefits of Sole insoles are personalized for your unique foot. The arch height adjusts to your required level, but does not flatten out. The forefoot takes the shape of the balls of your feet and toes, and the aligning heel cup supports your unique heel shape. This creates a continuous contact point across the soles of your feet, leaving no area unsupported.
Superfeet
Many cushioned insoles are made with gel or soft foam alone. They may seem comfortable at first, but without a firm stabilizer cap, they fail to adequately support your feet. Non-supportive and gel-based insoles do not effectively align the body, and can increase fatigue and foot pain. Firm support under the foot helps improve the way your shoes fit your feet. Superfeet properly support and align your body, creating less stress on the muscles.
Teva
It's been 30 years since Teva took their first step in the Grand Canyon, and not a moment has gone by that Teva® (that's "teh'-vah," not "tee-vah") hasn't been hard at work developing products that enable and encourage your adventure. We all have very different lives; different day jobs, different hobbies, different passions. But if there's one thing we can all agree on it's this; we like a good story. So strap on a pair of Teva and go find your story.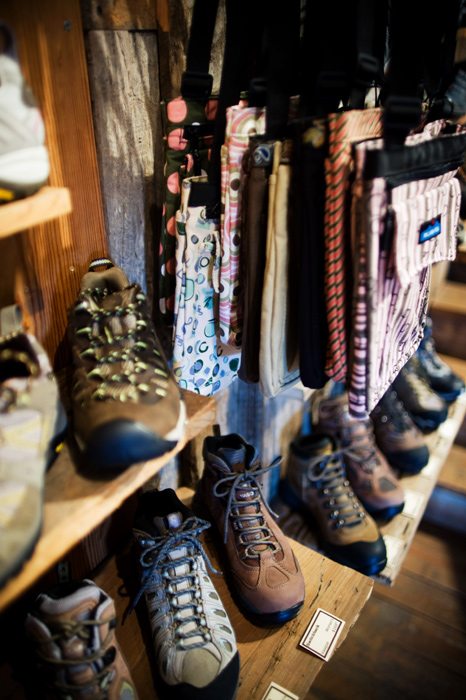 Altra
We weren't started in some corporate office, but in the back room of a Wasatch Mountain running store. Our founders, —elite athletes and running store managers, —wanted a shoe that let you run the way you were born to. They noticed that the design of most running shoes was hurting runners more than helping them. Elevated heels promote high-impact landing and narrow toe boxes squeeze the toes out of their natural position.
What began as experimental shoe alterations has transformed into the only shoe company to provide a cushioned Zero Drop™ platform and FootShape™ toe box. This innovative combo promotes low-impact technique and allows your feet to remain in a natural, relaxed position across every terrain.
Vasque
Fit is about comfort, but the fit of the shoe can also enhance your performance. Vasque takes this notion to an art form. Fit is taken very seriously at Vasque. By going to great lengths to understand foot anatomy and function, Vasque shoes designs offer multiple fit options to better address a wider range of foot shapes.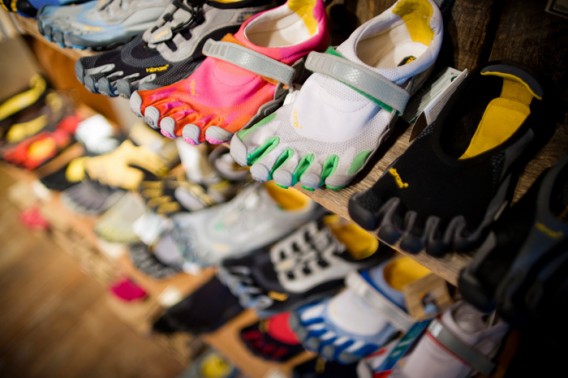 Vibram FiveFingers
Vibram FiveFingers® provides a healthy alternative to traditional footwear. Wearing FiveFingers for fitness training, running, water sports or just for fun will make your feet stronger and healthier—naturally. Running in Vibram FiveFingers requires a significant increase in lower leg and foot strength. A gradual transition is critical to avoid overuse injuries.