Staying Warm Kayak Fishing
Staying Warm Kayak Fishing by John Williams
Early winter represents some of the best times to be out in your kayak fishing. Cooler water temperatures bring the speckled trout into range for our kayaks. The redfish are grouping up and patrolling the shores of the larger inshore lakes in large packs.
Cool fronts are pushing tides lower making sight fishing opportunities some of the best of the year. One of the challenges that keeps kayak fishermen in watching the NFL instead of out in the marsh however, are worries about staying warm.
The first concept to think of for cooler weather kayaking is layering your clothing. Dressing in multiple layers allows for the kayak fisherman to adjust throughout the day to stay comfortable.
The most important layer is your "next to skin" layer. A quick drying fabric that "wicks" the moisture away from the skin is essential. Damp skin and clothing transmits heat much more quickly than dry skin. This is particularly important in a kayak as the effort and moisture you put out in paddling to your fishing spot can result in moisture building up in your clothing. I use Patagonia Capilene in my layering system to stay warm and dry underneath where it really counts.
Your next most important layer is your outer wind shell. It's very important to stop the wind before it sinks into your insulating and base layers. I recommend using a waterproof and breathable rain jacket for your outer layer. I prefer this jacket to have a roomy fit and a simple single layer design. This allows you to add layers underneath depending upon how cold it is. You'll also want to have room to cast effectively while wearing the jacket.
The same goes for bottoms. A waterproof pair of rain pants are perfect to block wind and spray as well as for pulling a big redfish onto your lap.
In between the base layer and outer layer my strategy is to have just enough insulation to stay warm for the conditions. My favorite layers include: Fleece jacket, synthetic vest, synthetic jacket or a combination of these. I lean towards insulation layers that have a more "slick" texture so that I can retain casting and paddling mobility when on the water.
Just as important as your main clothing are your accessories. As much as 60% of your body heat can be lost
through your head and neck. Be sure to wear a warm hat as well as a fleece buff around your neck for a big upgrade in warmth while paddling.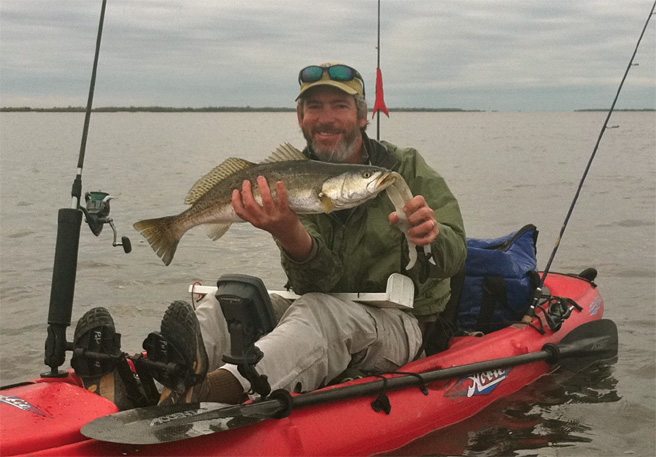 Wool or synthetic socks worn with roomy insulated waterproof boots or shoes is the best combination I've found for kayak fishing. I like Bogs calf high boots with my rain pants pulled over them. This way I can walk into the water while getting in and out of my kayak without wetting my socks.
Keeping your hands warm can be a challenge. I have found good luck using thin Capilene or Polartec gloves to use while fishing with a warm over-mitten while I am paddling. This combination allows me to fish well with some coverage – and also to have extra warmth when changing spots.
Lastly, I recommend wearing your life jacket. A PFD adds extra safety should you capsize in cold water and also adds some extra insulation to your system.
Dressed correctly, you can stay comfortable in our South Louisiana weather. And the payoff is lots of fish with very little or no boat traffic. While your buddies are inside watching football you can be out enjoying some of the best fishing our state has to offer!
©Pack & Paddle – Lafayette, LA – 337-232-5854 – www.packpaddle.com